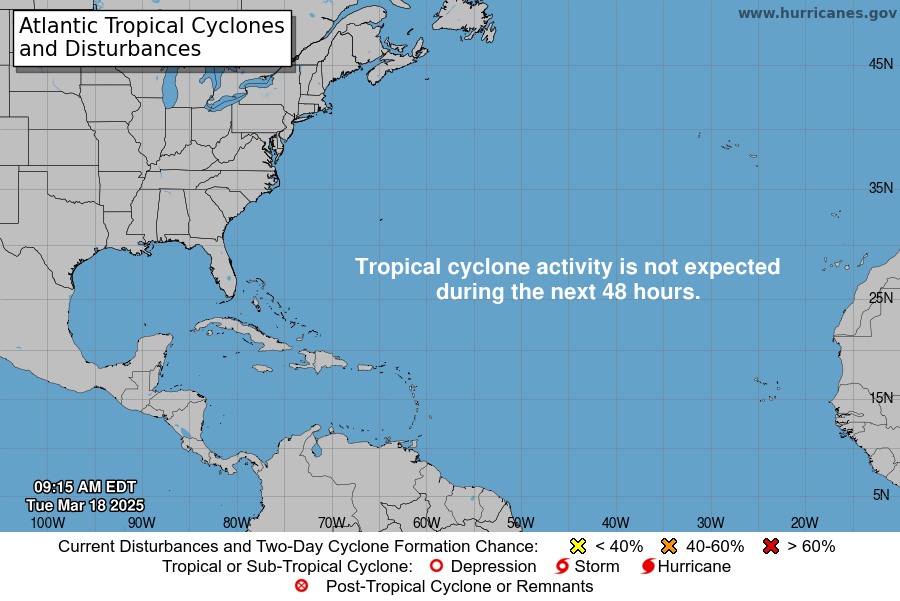 Recent Comments:
Recent Posts:
Comments
We have had some people ask so here is what is going on currently:

FIONA is done - the NHC issued their last advisory at 11 EST today -


GASTON is a tropical storm and expected to get to hurricane strength by Wednesday, but tracking well east of Bermuda -


There is another tropical depression east of the lesser Antilles - this is the only system that could threaten the Caribbean currently, and it could strengthen but the forecast is not confident - yet. This area bears watching (from the NHC):

As of 8:00 pm EDT Tue Aug 23 2016... Satellite images, surface observations, and radar from the Lesser Antilles indicate that a broad area of low pressure associated with a tropical wave a couple of hundred miles east of the Lesser Antilles has become a little better defined. Although environmental conditions are only marginally conducive for development, this system could become a tropical depression during the next day or two while it moves west-northwest at 15 to 20 mph near the Leeward Islands and the Greater Antilles. Conditions could become more conducive later this week while the system moves near the southeastern and central Bahamas. Another Air Force Reserve Hurricane Hunter aircraft is scheduled to investigate this disturbance tomorrow, if necessary. Interests from the islands of the northeastern Caribbean Sea to the Bahamas should continue to monitor the progress of this system. Gusty winds, heavy rains, and possible flash floods and mud slides could occur over portions of these areas regardless of tropical cyclone formation.
---
Comments
TD 7 has become Tropical Storm Gaston. It doesn't look likely this far out that this storm will be an issue of the Caribbean region or The Bahamas, and may even skirt east of Bermuda. The season has begun to heat up, but the current trend at least is favorable to the Caribbean.
---
Comments
The NHC is reporting on several systems - Tropical Depression Fiona is weak and looks to be meandering safely between The Bahamas and Bermuda.
There is a depression behind Fiona, and then there is TD seven, which looks like it could become a hurricane eventually but seems to be tracking east of Bermuda. So - lots of disturbed weather but nothing that looks too threatening to the Caribbean at this moment. We'll keep an eye out this week for sure -
---
Comments
The bad news - Tropical Storm Fiona has formed in the Atlantic. The good news - it doesn't seem to be tracking anywhere near the Caribbean. The bad news - it is far out and several days away, but it looks to be on a bee line to Bermuda.
BULLETIN
TROPICAL STORM FIONA ADVISORY NUMBER 4
NWS NATIONAL HURRICANE CENTER MIAMI FL AL062016
500 PM AST WED AUG 17 2016



...DEPRESSION STRENGTHENS INTO SIXTH NAMED STORM OF THE SEASON OVER
THE CENTRAL TROPICAL ATLANTIC......

SUMMARY OF 500 PM AST...2100 UTC...INFORMATION
----------------------------------------------
LOCATION...15.1N 37.8W
ABOUT 920 MI...1480 KM W OF THE CABO VERDE ISLANDS
MAXIMUM SUSTAINED WINDS...40 MPH...65 KM/H
PRESENT MOVEMENT...NW OR 305 DEGREES AT 16 MPH...26 KM/H
MINIMUM CENTRAL PRESSURE...1006 MB...29.71 INCHES

WATCHES AND WARNINGS
--------------------
There are no coastal watches or warnings in effect.

DISCUSSION AND 48-HOUR OUTLOOK
------------------------------
At 500 PM AST (2100 UTC), the center of Tropical Storm Fiona was
located near latitude 15.1 North, longitude 37.8 West. Fiona is
moving toward the northwest near 16 mph (26 km/h). A motion toward
the northwest or west-northwest with some decrease in forward speed
is expected during the next couple of days.

Maximum sustained winds have increased to near 40 mph (65 km/h) with
higher gusts. Some additional strengthening is forecast during the
next 48 hours.

Tropical-storm-force winds extend outward up to 25 miles (35 km)
from the center.

The estimated minimum central pressure is 1006 mb (29.71 inches).

HAZARDS AFFECTING LAND
----------------------
None.

NEXT ADVISORY
-------------
Next complete advisory at 1100 PM AST.
---
Comments
Hurricane Earl was the deadliest Atlantic hurricane to impact Mexico since Hurricane Stan in 2005. The fifth named storm and second hurricane of the 2016 Atlantic hurricane season, Earl formed from a tropical wave south of Jamaica on August 2. The precursor to Earl brought torrential rainfall and flooding to the Lesser Antilles. Upon classification, tropical storm warnings were issued for the coastal areas of Belize, Honduras, and the southern portion of the Yucatán Peninsula. The warnings were extended and upgraded when Earl reached hurricane status. On August 4, Earl made landfall south of Belize City. Upon landfall, some of the warnings were discontinued. Following this, Earl exited in the Bay of Campeche and followed the coastline as it restrengthened slightly. This prompted more tropical storm warnings for the Mexican coast.
Prior to Earl becoming a tropical cyclone, 13 people died in storm-related incidents across the Dominican Republic. Striking Belize as a Category 1, the hurricane caused extensive damage; losses to agriculture exceeded US$100 million. Heavy rain in Mexico triggered many landslides, several of which proved fatal in the states of Puebla, Hidalgo, and Veracruz; at least 54 people died in the country. Lesser effects were felt in neighboring countries in Central America.
---
Comments
It's way out there - and who knows at this point where it will end up, but the NHC seems to think the chance of organization is high. We'll be keeping an eye on it:
TROPICAL WEATHER OUTLOOK NWS NATIONAL HURRICANE CENTER MIAMI FL 800 PM EDT TUE AUG 16 2016

For the North Atlantic...Caribbean Sea and the Gulf of Mexico:

1. Showers and thunderstorms associated with a low pressure area
located about 650 miles west-southwest of the Cabo Verde Islands
have become more concentrated and better organized during the past
several hours. If this development trend continues, advisories
would be initiated on a tropical depression tonight or Wednesday.
This system is expected to move generally northwestward over the
open waters of the central Atlantic during the next several days.
* Formation chance through 48 hours...high...90 percent
* Formation chance through 5 days...high...90 percent
---
Comments
The NHS is posting info on two separate areas of unsettled weather this morning. Neither look to have much potential to develop into anything major at this point, and if they do they don't look like they would affect the Caribbean basin - the larger one could become an issue for the Bahamas by sometime next week. We'll keep an eye out but it looks like if you live or are traveling to any Caribbean islands this weekend you'll be fine!
TROPICAL WEATHER OUTLOOK
NWS NATIONAL HURRICANE CENTER MIAMI FL
800 AM EDT SAT AUG 6 2016
For the North Atlantic...Caribbean Sea and the Gulf of Mexico:
The National Hurricane Center is issuing advisories on Tropical
Depression Earl, located well inland over Mexico west of Veracruz.
1. An area of cloudiness and thunderstorms associated with a trough of
low pressure is located over the northeastern Gulf of Mexico. Some
gradual development is possible before the system moves inland over
the southeastern United States in a couple of days. Regardless of
development, heavy rainfall over northern Florida is anticipated.
* Formation chance through 48 hours...low...20 percent
* Formation chance through 5 days...low...30 percent
2. A tropical wave is producing disorganized cloudiness and showers
just north of Puerto Rico and the adjacent Atlantic. An area of
low pressure could form in the middle of next week between
Florida and Bermuda while the activity moves west-northwestward
and then northward over the Atlantic.
* Formation chance through 48 hours...low...near 0 percent
* Formation chance through 5 days...low...20 percent
---
Comments
It isn't a very powerful storm and isn't forecast to maintain hurricane status for long, but unfortunately it will probably be quite an issue for Belize and parts of Guatemala and Mexico, with rainfall totals up to 18 inches!
HURRICANE EARL DISCUSSION NUMBER 7
NWS NATIONAL HURRICANE CENTER MIAMI FL AL052016
1000 PM CDT WED AUG 03 2016
Earl has been under close surveillance by Air Force and NOAA
Hurricane Hunter planes and the Belize Meteorological Service radar
this evening. The Air Force Hurricane Hunters found peak 700 mb
flight-level winds of 72 kt which converts to a surface wind of 65
kt, and this is used for the advisory intensity. Belize radar
imagery shows that the eyewall has been fluctuating between an open
and closed structure over the past several hours. There is little
time left for Earl to strengthen before the center reaches the
coast, and no significant intensification is anticipated before
landfall. A steady weakening trend will commence after the
tropical cyclone moves inland. Based on the latest track
guidance, the center is forecast to only barely emerge into the
extreme southern Bay of Campeche on Thursday, and this should limit
reintensification at that time. Earl is expected to become a
remnant low and dissipate over the high mountains of south-central
Mexico by the weekend or sooner.
Earl continues to move slightly north of due west or 280/13 kt.
The cyclone remains embedded in a well-defined steering flow to the
south of a large and slow-moving mid-tropospheric high pressure
system. Little change has been made to the previous official
forecast track and the current NHC forecast remains close to the
multi-model consensus.
After landfall, the biggest concern with Earl is rainfall. Global
models depict the system becoming enveloped within a much
larger-scale cyclonic gyre that will cover much of southern Mexico
in a couple of days. This weather pattern will likely lead to
copious rains, with isolated precipitation totals of 18 inches
possible.
FORECAST POSITIONS AND MAX WINDS
INIT 04/0300Z 17.4N 87.6W 65 KT 75 MPH
12H 04/1200Z 17.7N 89.3W 50 KT 60 MPH...INLAND
24H 05/0000Z 18.2N 91.4W 30 KT 35 MPH...INLAND
36H 05/1200Z 18.5N 93.5W 25 KT 30 MPH...INLAND
48H 06/0000Z 18.8N 95.1W 30 KT 35 MPH...OVER WATER
72H 07/0000Z 20.0N 98.3W 20 KT 25 MPH...INLAND
96H 08/0000Z...DISSIPATED
---
Comments
Tropical Storm Earl finally cropped up today in the western Caribbean Sea:
TROPICAL STORM EARL DISCUSSION NUMBER 2
NWS NATIONAL HURRICANE CENTER MIAMI FL AL052016
500 PM EDT TUE AUG 02 2016
An Air Force reconnaissance plane investigated Earl a few hours
ago and measured flight-level winds of about 54 kt in the northeast
quadrant on its last leg. It also measured a minimal central
pressure of 1002 mb. Another Air Force plane will be in Earl
tonight along with the NOAA P3 Hurricane Hunter aircraft. The
satellite presentation has not changed significantly during the day,
and Dvorak T-numbers, along with the plane data, yield an initial
intensity of 45 kt. Global models have consistently forecast a
little better environment, and the NHC forecast calls for some
strengthening. Earl could be near hurricane strength as it
approaches the Yucatan peninsula and Belize.
It appears that Earl has slowed down as anticipated, and is
now moving westward or 275 degrees at 14 kt. The cyclone is
embedded within the deep easterly flow on the south side of a ridge.
This flow pattern will continue to steer Earl on a general west to
west-northwest track with a gradual decrease in forward speed across
Belize and the Yucatan peninsula during the next 2 days or so. After
that time, Earl will likely move over the southern portion of the
Bay of Campeche where it could re-intensify some. There is good
confidence with this track scenario, and the NHC forecast very
closely follows the multi-model consensus.

FORECAST POSITIONS AND MAX WINDS
INIT 02/2100Z 16.4N 81.5W 45 KT 50 MPH
12H 03/0600Z 16.5N 83.6W 50 KT 60 MPH
24H 03/1800Z 17.0N 86.0W 55 KT 65 MPH
36H 04/0600Z 17.5N 88.3W 60 KT 70 MPH
48H 04/1800Z 18.0N 90.5W 30 KT 35 MPH...INLAND
72H 05/1800Z 19.0N 94.0W 40 KT 45 MPH...OVER WATER
96H 06/1800Z 20.0N 98.5W 25 KT 30 MPH...INLAND
120H 07/1800Z...DISSIPATED
This storm doesn't look like it will have much more effect on the Caribbean islands we cover here, so we probably won't be doing much more reporting on it.

---
Comments
The NHC is discussing but not naming a strong area of weather that is currently in the Caribbean basin. This morning on the satellite images it definitely looked like something, here is what they are currently saying:
A strong tropical wave is moving across the central Atlantic with axis extending from 21N71W to a 1007 mb low near 16N72W to 12N72W. A gale warning is in effect for the southwest area within 90 nm and 45 nm from the wave's axis. The tropical wave and low are moving west at about 15-20 kt with numerous showers and thunderstorms from 14N-20N between 68W-74W affecting Hispaniola at this time. This system has a high chance of tropical development within the next 24-48 hours. Please see the Tropical Weather Outlook under AWIPS/WMO headers MIATWOAT/ABNT20 KNHC for more details.
See this page also - http://www.nhc.noaa.gov/gtwo.php - there is a high chance that this turns into a named storm and tracks to the Yucatan peninsula.
And here is the latest outlook:
TROPICAL WEATHER OUTLOOK NWS NATIONAL HURRICANE CENTER MIAMI FL 200 PM EDT MON AUG 1 2016

For the North Atlantic...Caribbean Sea and the Gulf of Mexico:

1. A strong tropical wave over the central Caribbean Sea, centered
about 275 miles east-southeast of Kingston, Jamaica, continues to
move quickly westward at about 20 mph. Thunderstorm activity
associated with the wave remains organized, but the system still
appears to lack a closed surface circulation. Environmental
conditions are expected to be conducive for additional development,
and a tropical storm is likely to form later today or tonight. An
Air Force Reserve Reconnaissance aircraft is currently en route to
investigate this system late this afternoon. Regardless of
development, locally heavy rainfall and gusty winds, perhaps to
tropical storm force, will continue over portions of the Dominican
Republic and Haiti through this evening. Tropical storm conditions
are likely to occur over Jamaica by this evening, and could reach
the Cayman Islands overnight. Interests in these areas and
elsewhere in the western Caribbean Sea should continue to monitor
the progress of this disturbance. For additional information, see
High Seas Forecasts issued by the National Weather Service.
* Formation chance through 48 hours...high...80 percent
* Formation chance through 5 days...high...90 percent

High Seas Forecasts issued by the National Weather Service can be
found under AWIPS header NFDHSFAT1, WMO header FZNT01 KWBC, and on
the Web at http://www.opc.ncep.noaa.gov/shtml/NFDHSFAT1.shtml.

Forecaster Brown
---
Comments
Joaquin was a category 4 hurricane (on the Saffir-Simpson Hurricane Wind Scale) whose strong winds and storm surge devastated Crooked Island, Acklins, Long Island, Rum Cay, and San Salvador in the central and southeastern Bahamas. Joaquin took the lives of 34 people--all at sea--including the 33 crewmembers of the cargo ship El Faro, which sunk during the storm northeast of Crooked Island. Joaquin is the strongest October hurricane known to have affected the Bahamas since 1866 and the strongest Atlantic hurricane of non-tropical origin in the satellite era.
There is an excellent report on Joaquin available from the NHC (PDF).
---
Comments
Ana originated from a non-tropical low and made landfall along the northeastern coast of South Carolina, causing minor wind damage, some beach erosion, and one direct death in North Carolina. More here from the NHC.
---
Comments
2016 North Atlantic Preliminary Atlantic Tropical Cyclone Tracks from the NWS: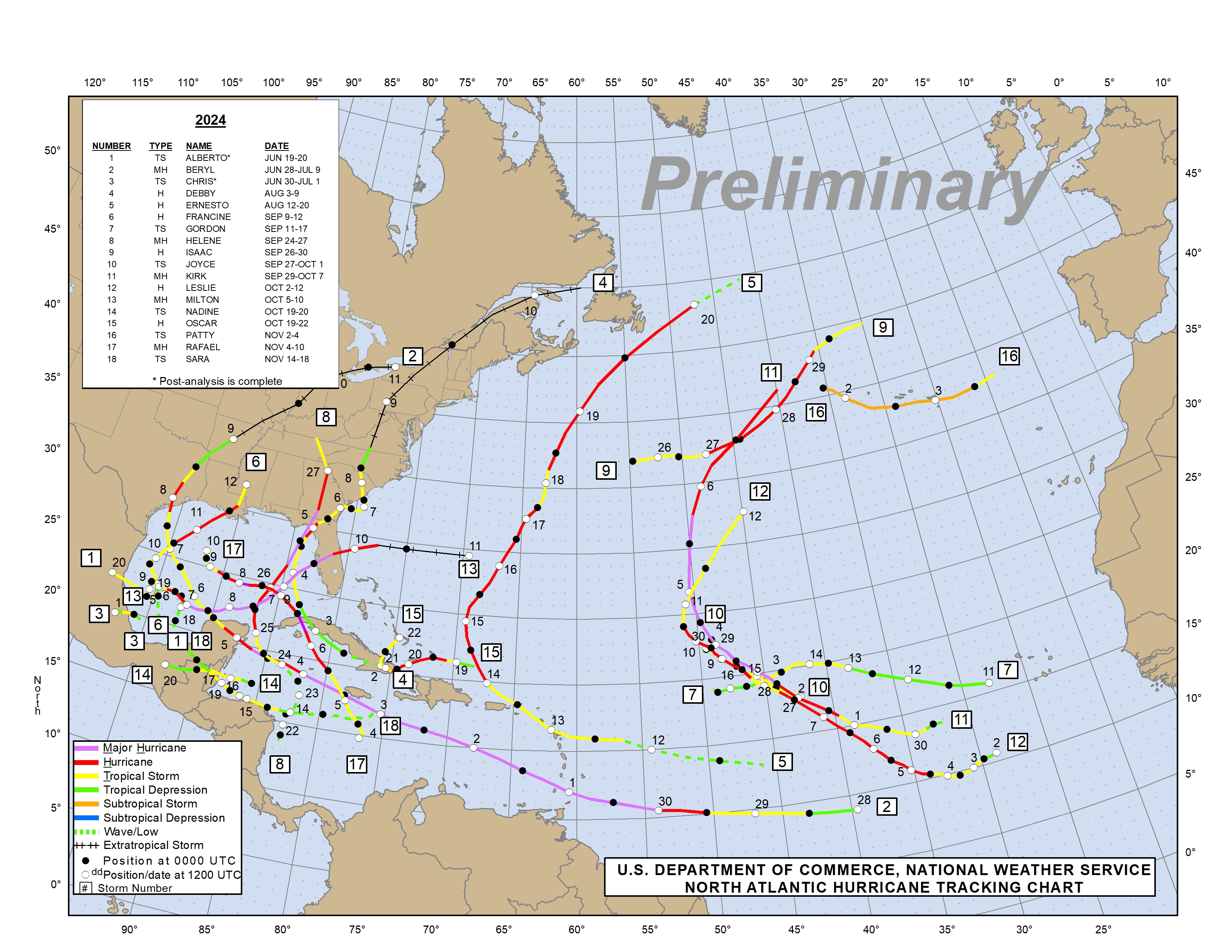 ---
Comments
2015 North Atlantic Hurricane Season Track Map: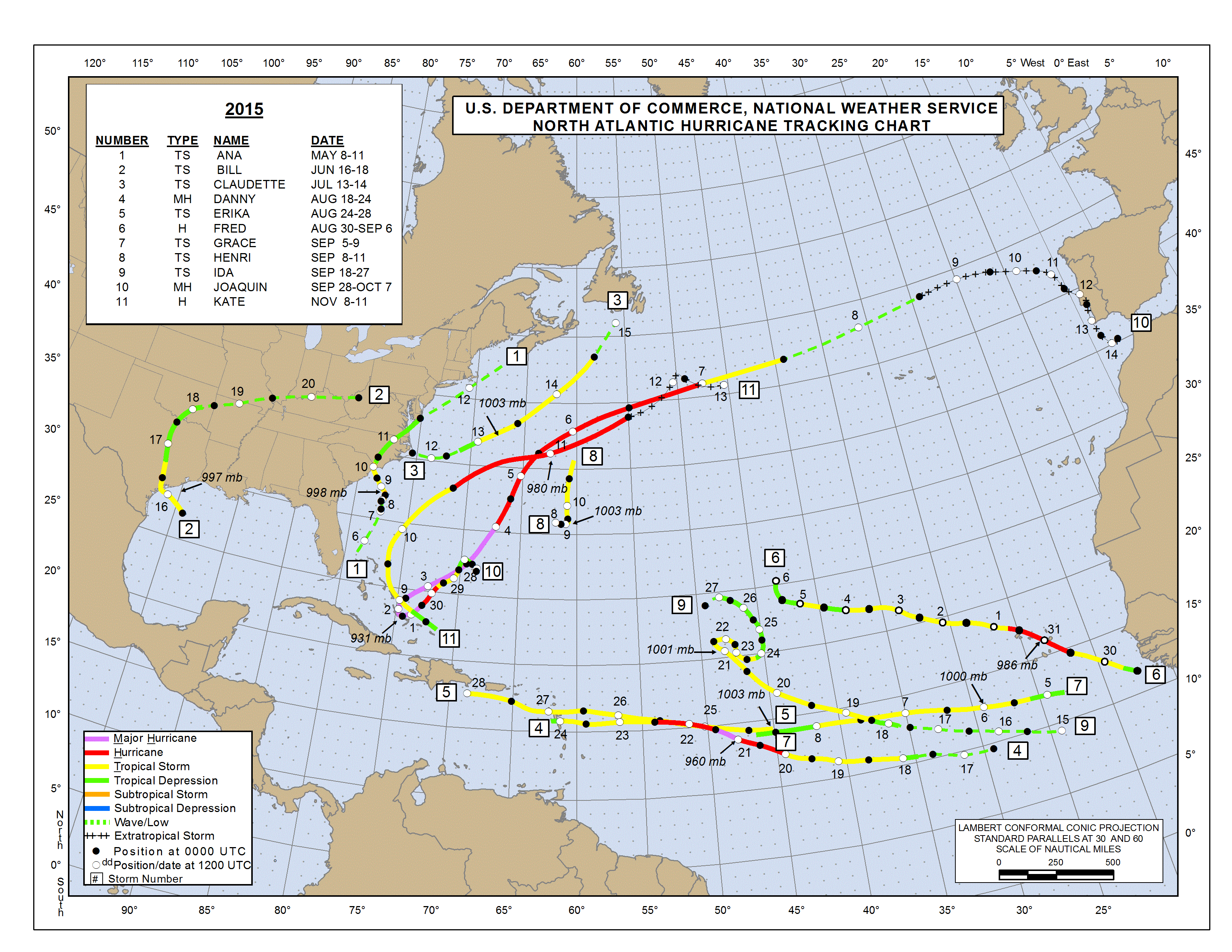 ---
Comments
Things have turned for the worse on the Rocky Bay webcam in the last hour:
---