Caribbean-On-Line's Caribbean Hurricane Blog
Caribbean Hurricane Blog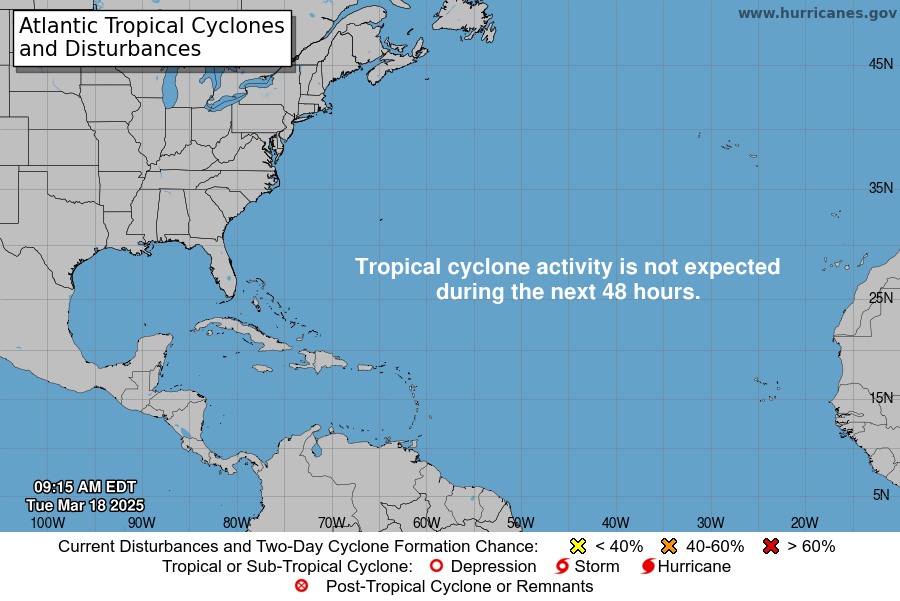 Current feed from the National Hurricane Center
Recent Comments:
Recent Posts:
Comments
---
Comments
Meteorological - FLASH FLOOD WATCH
Issued By: NWS San Juan (San Juan, Puerto Rico) Affected Jurisdictions:
St. Croix, St. John, St. Thomas Counties
Headline: Flash Flood Watch issued August 27 at 11:03AM AST until August 28
at 12:00PM AST by NWS San Juan
...Tropical Storm Erika Will Bring Flooding Rains Across Portionsof The
Local Islands Tonight Through Friday Morning......Flash Flood Watch In
Effect Through Friday Morning...The National Weather Service In San Juan Has
Issued A* Flash Flood Watch For Puerto Rico And U.S. Virgin Islands.*
Through Friday Morning* There Is A Potential For Flooding Rainfall Across
Puerto Ricoand The U.S. Virgin Islands As Tropical Storm Erika Moves
Acrossthe Eastern Caribbean. Rainfall Forecasts Over The Local Areaare
Expected To Be Between 4 And 8 Inches With Isolated Maximumsof 12 Inches
Possible. Due To Heavy Rains Across Portions Of Thewestern Interior Of
Puerto Rico Over The Past Few Weeks...Theirsoils Are Super
Saturated...Therefore Significant Flooding Mayoccur In That Region.
Regardless Of The Antecedent Soilconditions...Localized Flash Flooding And
Land Slides Arepossible In Areas Of High Intensity Tropical
Downpours...Which can Occur With Tropical Storm Erika.
A Flash Flood Watch Means That Conditions May Develop That Leadto Flash
Flooding. Flash Flooding Is A Very Dangerous Situation.You Should Monitor
Later Forecasts And Be Prepared To Take Actionshould Flash Flood Warnings Be
Issued.

---
Comments
Virgin Islands Port Authority Executive Director Carlton Dowe provided the public with an update regarding the US Virgin Islands' airports and seaports as the agency prepares for the arrival of Tropical Storm Erika which is expected to affect the territory tomorrow.
AIRPORTS
There are no plans to close the Henry E. Rohlsen Airport on St. Croix or the Cyril E. King Airport on St. Thomas today, said Dowe. VIPA will make an assessment and determine if the airports will be open tomorrow, August 27. The Port Authority is in constant communication with the airlines and will report any flight cancellations it receives.
Reported Flight Cancellations
LIAT, Ltd.
Aug. 27th - all flights
SEAPORTS
In the event of a storm, the US Coast Guard takes the lead in the closure and re-opening of the seaports, said Dowe. The US Coast Guard has determined that all seaports in the territory will be closed at 6 p.m. today to all inbound commercial vessels. Ferry service to Tortola, BVI will be provided by Native Son from the E. W. Blyden Marine Terminal at 2:30 p.m. and from the Urman Fredericks Marine Terminal in Red Hook at 3:30 p.m. Ferry and barge service between St. Thomas and St. John will continue through midnight today.
The seaports will be closed to all vessels on Thursday, August 27 at 6 a.m. No ferry or barge services will be allowed. The US Coast Guard will determine when the seaports can be re-opened once the storm has passed, Dowe said.
The public is reminded to call the airlines, ferry and barge services directly for accurate schedule information.
---
Comments
It doesn't look like Erika will achieve hurricane status as the storm approaches the Caribbean - although it still may days from now as it nears the Bahamas (if the current forecast holds).
From the NHC:
BULLETIN
TROPICAL STORM ERIKA INTERMEDIATE ADVISORY NUMBER 7A
NWS NATIONAL HURRICANE CENTER MIAMI FL AL052015
200 PM AST WED AUG 26 2015
...ERIKA CONTINUES WESTWARD...
...NOAA HURRICANE HUNTER AIRCRAFT ON ITS WAY TO INVESTIGATE
THE STORM...

SUMMARY OF 200 PM AST...1800 UTC...INFORMATION
----------------------------------------------
LOCATION...16.3N 58.2W
ABOUT 245 MI...395 KM ESE OF ANTIGUA
MAXIMUM SUSTAINED WINDS...45 MPH...75 KM/H
PRESENT MOVEMENT...W OR 280 DEGREES AT 17 MPH...28 KM/H
MINIMUM CENTRAL PRESSURE...1005 MB...29.68 INCHES

WATCHES AND WARNINGS
--------------------
CHANGES WITH THIS ADVISORY:
None
SUMMARY OF WATCHES AND WARNINGS IN EFFECT:
A Tropical Storm Warning is in effect for...
* Anguilla
* Saba and St. Eustatius
* St. Maarten
* St. Martin
* St. Barthelemy
* Montserrat
* Antigua and Barbuda
* St. Kitts and Nevis
* Puerto Rico
* Vieques
* Culebra
* U.S. Virgin Islands
* British Virgin Islands
A Tropical Storm Watch is in effect for...
* Guadeloupe
A Tropical Storm Warning means that tropical storm conditions are
expected somewhere within the warning area, generally within 36
hours.
A Tropical Storm Watch means that tropical storm conditions are
possible within the watch area, generally within 48 hours.
Interests in the Dominican Republic, the southeastern Bahamas, and
the Turks and Caicos Islands should monitor the progress of Erika.
A Tropical Storm Watch may be required for a portion of the
Dominican Republic later today.
For storm information specific to your area in the United
States, including possible inland watches and warnings, please
monitor products issued by your local National Weather Service
forecast office. For storm information specific to your area outside
the United States, please monitor products issued by your national
meteorological service.

DISCUSSION AND 48-HOUR OUTLOOK
------------------------------
At 200 PM AST (1800 UTC), the center of Tropical Storm Erika was
located near latitude 16.3 North, longitude 58.2 West. Erika is
moving toward the west near 17 mph (28 km/h), and a west to
west-northwestward motion is expected over the next 48 hours.
On the forecast track, the center of Erika will move near or over
portions of the Leeward Islands tonight, move near the Virgin
Islands and Puerto Rico on Thursday, and be near or just north of
the north coast of the Dominican Republic on Friday.
Maximum sustained winds are near 45 mph (75 km/h) with higher gusts.
Little change in strength is forecast during the next 48 hours.
Tropical storm force winds extend outward up to 105 miles (165 km)
primarily to the east of the center.
The estimated minimum central pressure is 1005 mb (29.68 inches).

HAZARDS AFFECTING LAND
----------------------
WIND: Tropical storm conditions are expected to first reach the
warning area in the Leeward Islands tonight, and reach the Virgin
Islands and Puerto Rico on Thursday. Tropical storm conditions are
possible in the watch area tonight and early Thursday. Tropical
storm conditions could reach portions of the Dominican Republic on
Friday.
RAINFALL: Erika is expected to produce total rain accumulations of
3 to 5 inches with maximum amounts of 8 inches across portions of
the Leeward Islands, the Virgin Islands, and Puerto Rico through
Friday morning.

NEXT ADVISORY
-------------
Next complete advisory at 500 PM AST.
---
Comments
---
Comments
Well Danny thankfully ran out of steam and produced much needed rain - but now Erika is following right behind. Erika looks to be gearing up a bit and need watching -
TROPICAL STORM ERIKA DISCUSSION NUMBER 4
NWS NATIONAL HURRICANE CENTER MIAMI FL AL052015
500 PM AST TUE AUG 25 2015
After becoming quite disorganized in appearance earlier today,
Erika has made a bit of a comeback with increased deep convection
near and to the south of the center. Data from the Air Force
Hurricane Hunters indicate that the intensity is near 35 kt and
this is consistent with Dvorak estimates from both TAFB and SAB.
Erika has limited upper-level outflow over the northern semicircle
of the circulation, and microwave data suggest that the cyclone has
been ingesting some dry mid-level air. As in the previous
forecast, there is considerable uncertainty as to the future
intensity of this tropical cyclone. The SHIPS guidance indicates
increasing west-northwesterly shear over the next few days, and the
GFS and ECMWF global models do not strengthen the system during the
forecast period. The HWRF and GFDL models do show strengthening,
however, but along a track to the right of most of the guidance.
The official intensity forecast has been reduced a bit from the
previous one and is close to the model consensus.
A center fix from the aircraft indicates that the motion continues
to be near 280/17. A mid-level subtropical ridge to the north of
Erika should steer the system on a west-northwestward track for the
next several days. Late in the forecast period, there is
significant spread in the models, with those models that depict a
weaker system being farther south and west and those having a
stronger cyclone farther to the north and east. The official track
forecast has been adjusted a little to the left of the previous one
and is in line with the latest dynamical model consensus.
Some of the tropical storm watches for the islands of the
northeastern Caribbean may need to be changed to warnings on the
next advisory package.
FORECAST POSITIONS AND MAX WINDS
INIT 25/2100Z 15.6N 52.8W 35 KT 40 MPH
12H 26/0600Z 16.1N 55.1W 35 KT 40 MPH
24H 26/1800Z 16.7N 58.4W 40 KT 45 MPH
36H 27/0600Z 17.4N 61.4W 45 KT 50 MPH
48H 27/1800Z 18.2N 64.3W 50 KT 60 MPH
72H 28/1800Z 20.3N 69.7W 50 KT 60 MPH
96H 29/1800Z 22.5N 74.0W 55 KT 65 MPH
120H 30/1800Z 25.0N 78.0W 65 KT 75 MPH
---
Comments
---
Comments
Here is the list of the 2015 Hurricane names for the Atlantic:
Ana, Bill, Claudette, Danny, Erika, Fred, Grace, Henri, Ida, Joaquin, Kate, Larry, Mindy, Nicholas, Odette, Peter, Rose, Sam, Teresa, Victor, Wanda
---
Comments
---
Comments
TROPICAL STORM DANNY DISCUSSION NUMBER 2
NWS NATIONAL HURRICANE CENTER MIAMI FL AL042015
500 PM AST TUE AUG 18 2015
The convective cloud pattern of the tropical cyclone has continued
to improve since the previous advisory, including the development of
interlocking curved convective cloud bands and the formation of an
upper-level anticyclonic outflow pattern. Passive microwave images
indicate that the cyclone has a well-developed low- and mid-level
structure. The intensity has been increased to 35 kt based on a
Dvorak satellite intensity estimate of T2.5/35 kt from TAFB and a
UW-CIMMS ADT estimate of T2.5/35 kt. As a result, the system has
been upgraded to Tropical Storm Danny on this advisory.
The initial motion estimate remains 280/11 kt. There is no
significant change to the previous forecast track or reasoning. The
global and regional models remain in good agreement on Danny moving
west-northwestward toward a weakness in the subtropical ridge
located along 45W longitude for the next 72 hours. After that time,
however, there is some spread in the model guidance based on how
much and how soon the ridge builds back in to the north of Danny.
The UKMET retains the weakness in the ridge longer, taking the
cyclone northeast of the Lesser Antilles. In contrast, the ECMWF
model strengthens the ridge sooner, which drives Danny more westward
and considerably faster at 96 and 120 hours. The GFS poorly
initialized Danny this morning, and it is noticeably slower than
all of the available model guidance and, therefore, has been given
much less weight on this forecast cycle. The official forecast track
is faster than the consensus model TVCN due to the much slower GFS
model inducing a significant slow bias in the model consensus, and
is roughly a blend of the ECMWF, HWRF, and GFS-Ensemble mean
forecast solutions.
Atmospheric and oceanic conditions surrounding Danny are expected
to be favorable for slow but steady strengthening throughout the
forecast period. The only inhibiting factor appears to be dry
mid-level air located to the north and west of Danny occasionally
getting entrained into the circulation. However, the low vertical
wind shear regime that Danny will be migrating through should allow
the convective structure of the cyclone to steadily increase in
organization, which should enable the circulation to quickly mix out
any dry air intrusions. The official intensity forecast is similar
to but slightly lower than the intensity consensus model IVCN
through 96 hours, and near the LGEM intensity model at 120 hours.
FORECAST POSITIONS AND MAX WINDS
INIT 18/2100Z 10.9N 37.5W 35 KT 40 MPH
12H 19/0600Z 11.2N 38.9W 40 KT 45 MPH
24H 19/1800Z 11.6N 40.4W 45 KT 50 MPH
36H 20/0600Z 12.0N 41.7W 55 KT 65 MPH
48H 20/1800Z 12.5N 43.0W 65 KT 75 MPH
72H 21/1800Z 13.4N 46.0W 75 KT 85 MPH
96H 22/1800Z 13.9N 49.7W 85 KT 100 MPH
120H 23/1800Z 14.5N 54.6W 85 KT 100 MPH
---
Comments
TROPICAL STORM GONZALO DISCUSSION NUMBER
5 NWS NATIONAL HURRICANE CENTER MIAMI FL
AL082014 1100 AM AST MON OCT 13 2014
An Air Force Reserve reconnaissance aircraft investigating Gonzalo this morning found 850 mb maximum flight-level winds of 64 kt along with reliable SFMR surface winds near 55 kt in the northeastern quadrant, plus a central pressure of 992 mb. In addition, the Antigua-Barbuda Meteorological Service recently reported a sustained wind of 58 kt and a gust to 76 kt. Based on these data, the intensity has been increased to 55 kt. Reports from the aircraft radar and Antigua-Barbuda also indicate the center of Gonzalo passed over Antigua between 1300-1400 UTC.
The initial motion estimate is 290/9 kt. Gonzalo is expected to continue to move west-northwestward today, and turn toward the northwest after 24 hours when the cyclone clears the northern Lesser Antilles. After that, the mid-level ridge to the north of Gonzalo is expected to break down as a strong mid-latitude trough moving off of the U.S. east and southeast coasts approaches the area north of Puerto Rico and Hispaniola in about 72 hours. The weakening ridge will allow Gonzalo to move slowly northward, and then turn toward the northeast and accelerate on Days 4 and 5. The latest NHC model guidance appears to have stabilized and has no longer made any eastward shifts, so the official forecast track is just an update of the previous advisory track, which lies close to a blend of the GFEX and TVCN consensus models.
The satellite presentation of Gonzalo has continued to improve, and radar data from Guadeloupe indicates that a small but intense vortex may have passed over Antigua earlier this morning. Overall, the improvement in the horizontal and vertical structure of Gonzalo the past several hours, along with weak vertical wind shear and SSTs greater than 29C, should allow for at least steady strengthening of the cyclone through the next 96 hours. By 120 hours, southwesterly wind shear of around 20 kt is expected to affect Gonzalo, which should induce a slow weakening trend. The NHC intensity forecast is similar to the previous forecast and the SHIPS intensity model.
Gonzalo is forecast to be reaching hurricane strength by the time it passes near the British Virgin Islands, and so a hurricane warning is in effect there. Although hurricane conditions are not currently expected in the U.S. Virgin Islands, only a slight deviation to the left of the forecast track, or a more rapid strengthening of the storm, would result in the need to extend the hurricane warning into those areas. Interests in the hurricane watch area are reminded that the watch means that hurricane conditions are possible...and in this case within 24 hours.
---
Comments
TROPICAL STORM FAY DISCUSSION NUMBER 14
NWS NATIONAL HURRICANE CENTER MIAMI FL
AL072014 1100 AM AST MON OCT 13 2014
Fay is well on its way to becoming a post-tropical cyclone or even dissipating within a frontal zone. Satellite images and surface observations indicate that a cold front is located just to the west of Fay, and cold air stratocumulus clouds are wrapping around the western side of the system. In addition, deep convection is now displaced well to the northeast of what passes for a low-level center. The Florida State University cyclone phase evolution analyses indicate that Fay has a warm core, which is the reason why it is still designated as a tropical storm, but it won't be one for much longer. The initial wind speed is lowered slightly to 50 kt, following the decrease in the satellite intensity estimates.
The storm is moving quickly eastward at about 25 kt as it is embedded in the mid-latitude westerly flow. Assuming it maintains a closed circulation, a continued eastward motion at a slightly slower forward speed is expected. The NHC track forecast is similar to the previous one and lies near the middle of the guidance envelope.

---
Comments
The AP is reporting:
KINGSTON, Jamaica (AP) -- Cristobal has strengthened into a hurricane in the Atlantic.

The National Hurricane Center in Miami said Monday that the storm had maximum sustained winds of 75 mph as it moved north away from the Bahamas.

Before strengthening into a hurricane, the storm flooded several communities across the Caribbean and halted flights in the drenched Turks & Caicos Islands.

By Monday night, the hurricane was centered about 660 miles (1,065 kilometers) southwest of Bermuda and was tracking east at 2 mph (4 kph).
---
Comments
Tropical Storm Cristobal has formed just north of the Turks and Caicos islands and is expected to bring wind and heavy rains to those islands and the Bahamas.
---
Comments
The NHC is keeping eyes on this thing:
The chances of tropical storm formation and not that high, but worth watching:
TROPICAL WEATHER OUTLOOK NWS NATIONAL HURRICANE CENTER MIAMI FL 800 PM EDT WED AUG 20 2014

For the North Atlantic...Caribbean Sea and the Gulf of Mexico:

1. Shower and thunderstorm activity associated with an elongated area of low pressure located several hundred miles east of the Windward Islands is slowly becoming better organized. Additional development is possible during the next day or two, and a tropical depression could form as the system moves west-northwestward at 10 to 15 mph across the Lesser Antilles and into the Caribbean Sea. After that time, land interaction could limit development potential over the weekend. Regardless of tropical cyclone formation, gusty winds and heavy rainfall are possible across portions of the Lesser Antilles, Puerto Rico, and the Virgin Islands on Thursday night and Friday. Interests in those islands should closely monitor the progress of this system. An Air Force Reserve Hurricane Hunter aircraft is scheduled to investigate the low tomorrow afternoon, if necessary. * Formation chance through 48 hours...medium...50 percent. * Formation chance through 5 days...high...70 percent.
---