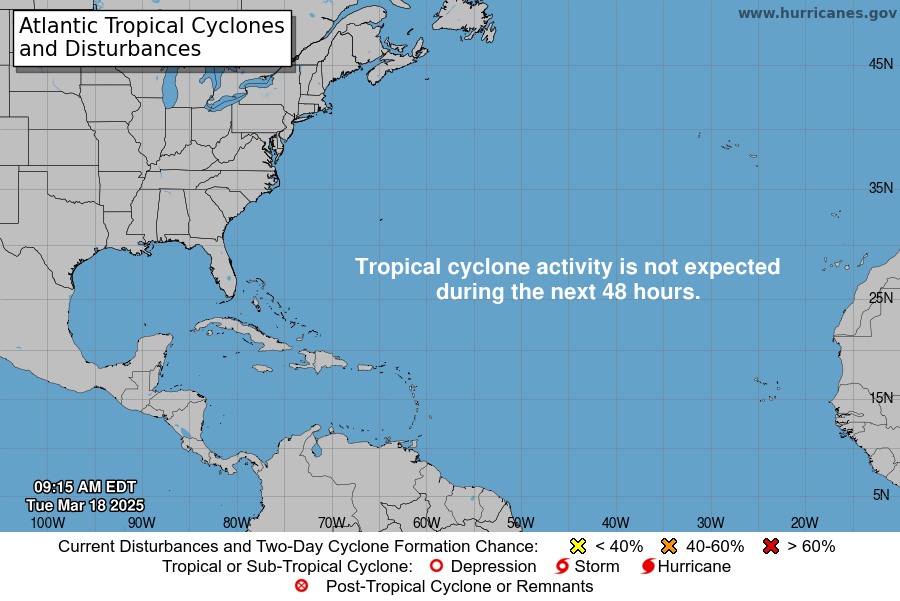 Recent Comments:
Recent Posts:
Comments
Sorry for the late notice - we we're on our vacation! Harvey is a not too strong tropical storm that is currently in the Caribbean Sea - and yet another southern Caribbean storm. As of the latest NHC forecast it is not expected to reach hurricane strength. We'll keep and eye on it until it clears the Caribbean.
Tropical Storm Harvey Discussion Number 5 NWS National Hurricane Center Miami FL AL092017 1100 AM AST Fri Aug 18 2017

The structure of Harvey has changed little during the past several
hours, and overall the storm is poorly organized. The low-level
center is near the eastern edge of the convective mass due
to the affects of 15 kt of vertical wind shear. In addition,
surface observations and Air Force Reserve Hurricane Hunter data
suggest that the 850-mb center is located west or southwest of the
surface center. Based on the aircraft and surface data, the central
pressure is near 1005 mb and the initial intensity remains 35 kt.

The initial motion is a quick 270/18. A strong low- to mid-level
ridge north of the cyclone should keep Harvey on this general motion
for the next 3-4 days, with the system moving from the eastern to
the western Caribbean Sea during this time. Late in the forecast
period, a more northerly motion is expected when Harvey passes near
or over portions of Central America, the Yucatan Peninsula, and
eastern Mexico. The new forecast track remains in the center of the
guidance, and only minor changes were made to the previous track.

The current shear should persist for the next 48 h or so, and thus
the intensity forecast continues the trend of slow strengthening
during this time. After that, conditions appear favorable for
strengthening, with the main uncertainty being how much land Harvey
will encounter. The ECMWF keeps the cyclone a little north of
Nicaragua and Honduras and allows more room for development, while
the GFS forecasts landfall in northeastern Nicaragua and thus has a
weaker intensity. The new NHC forecast is close to the previous
one in showing a peak intensity below hurricane strength, but
the confidence in this portion of the forecast is low.
---
Comments
This is pretty far off, but the NHC currently has it at a 60% probability of becoming a Tropical Storm...
Tropical Weather Outlook NWS National Hurricane Center Miami FL 800 PM EDT Wed Jul 5 2017

For the North Atlantic...Caribbean Sea and the Gulf of Mexico:

1. Satellite images indicate that shower activity has become more
concentrated in association with the area of low pressure centered
about 900 miles west of the Cabo Verde Islands. Some additional
development is possible tonight and Thursday, and a tropical
depression could form before conditions become less conducive on
Friday. The low is expected to move west-northwestward at 10 to 15
mph for the next several days across the open Atlantic.
* Formation chance through 48 hours...medium...60 percent.
* Formation chance through 5 days...medium...60 percent.
---
Comments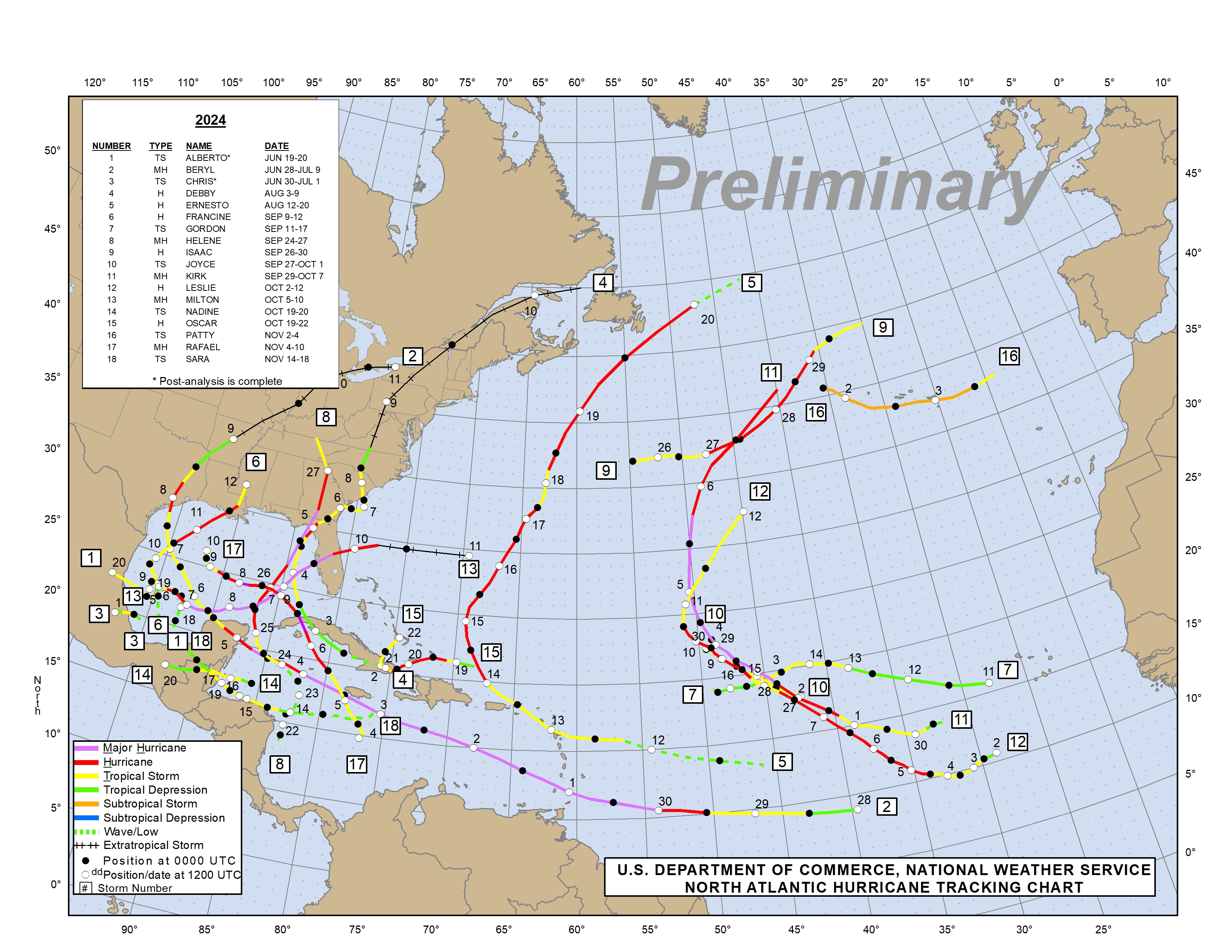 ---
Comments
Sorry for the late start everyone! We just updated our matrix with the 2017 storm names, and wrote brief summaries of the three named storms year to date: Arlene, Bret and Cindy.
Bret was a real outlier already - so early and so far south - but maybe that means the southern Caribbean will be in the clear for the rest of the year.
We'll be keeping a much closer eye on things from now until September - and as always are hoping for a safe and tranquil season!
Please use the comments form at the end of each page and/or email directly at webmaster@caribbean-on-line.com with questions, additional comments, images, updates, etc.
Remember if you are getting this email you definitely signed up for it at one point - you can always unsubscribe yourself by visiting any page on the Hurricane Blog and using the email form in the left hand column - just enter the email you received this message at, check the "Unsubscribe" radio button, then click the Add-Remove button.
Thanks -
Anthony for Caribbean-On-Line
---
Comments
Tropical Storm Cindy was the first tropical cyclone to make landfall in Louisiana since Hurricane Isaac in 2012. The third named storm of the 2017 Atlantic hurricane season, Cindy formed out of a broad area of low pressure that developed in the northwestern Caribbean Sea near the Yucatán Peninsula in mid-June 2017. The disturbance gradually organized as it drifted northwards into the Gulf of Mexico, and was first designated as a potential tropical cyclone by the National Hurricane Center on June 19, organizing into a tropical storm the next day. While slowly moving to the northwest, Cindy's intensification was hampered due to the effects of dry air and moderate to strong wind shear. It later made landfall in southwestern Louisiana on June 22, quickly weakening afterwards and became post-tropical late the next day, dissipating shortly afterwards.
---
Comments
Tropical Storm Bret did brush the extreme southern Caribbean as it brushed by the north coast countries of South America. A very rare storm so early and so south that actually affected the ABC islands and Trinidad and Tobago, which are generally considered in the "safe" zone for tropical activity. Barbados and St. Vincent and the Grenadines also issues warnings related to this storm, which also caused flooding in Guyana.
According to Phil Klotzbach of Colorado State University, Bret was the earliest storm to form in the Main Development Region on record, surpassing a record set by Tropical Storm Ana in 1979. Bret was also the lowest latitude named storm in the month of June since 1933 at 9.4°N.
---
Comments
Arlene was a small tropical storm in the middle of the Atlantic Ocean, it never posed a threat to the Caribbean region. As long time followers of this blog know we really only post things that concern the Caribbean region, as well as the Bahamas.
---
Comments
For the North Atlantic... Caribbean Sea and the Gulf of Mexico:
One named storm, Otto, which became a hurricane, formed in the
Atlantic basin in November. Based on a 30-year (1981-2010)
climatology, a named storm forms in the basin in November in about 7
out of 10 years, with a hurricane forming about once every other
year.
For the 2016 season, 15 named storms formed, of which 7 became
hurricanes, and 3 became major hurricanes. One unnamed depression
also formed in the basin. The number of named storms and hurricanes
in 2016 was above the long-term averages of 12 and 6, respectively.
The season total of major hurricanes matched the long-term average
of 3.
In terms of Accumulated Cyclone Energy (ACE), which measures the
combined strength and duration of tropical storms and hurricanes,
activity in the basin for 2016 was above normal. Overall, the ACE
for the season was about 40 percent above the 1981-2010 median
value. It is noteworthy that just three cyclones, Matthew, Gaston,
and Nicole, produced more than 70 percent of the seasonal ACE, while
many of this year's other cyclones were relatively weak and/or short
lived.
Reports on individual cyclones, when completed, are available at
the National Hurricane Center website at
www.nhc.noaa.gov/data/tcr/index.php?season=2016&basin=atl .
Summary Table
Name Dates Max Wind (mph)
---------------------------------------------------
H Alex 12-15 Jan 85*
TS Bonnie 27 May- 4 Jun 45*
TS Colin 5- 7 Jun 50
TS Danielle 19-21 Jun 45*
H Earl 2-6 Aug 80
TS Fiona 16-23 Aug 50*
MH Gaston 22 Aug- 3 Sep 120
TD Eight 28 Aug- 1 Sep 35
H Hermine 28 Aug- 3 Sep 80
TS Ian 12-16 Sep 60
TS Julia 14-18 Sep 40
TS Karl 14-25 Sep 70
TS Lisa 19-25 Sep 50
MH Matthew 28 Sep- 9 Oct 160
MH Nicole 4-18 Oct 130
H Otto 21-26 Nov 110
---------------------------------------------------
* Denotes a storm for which the post-storm analysis is complete.
---
Comments
Couple of very good working cams on our webcam page: Bermuda Webcams. Nicole is a day away and things are already looking pretty bleak - Nicole may be at major hurricane strength when she arrives on Wednesday, and right now she is tracking straight at Bermuda.
---
Comments
Tropical Storm Nicole is forecast to become a hurricane (again) and is tracking straight toward Bermuda - the NCH says "Hurricane conditions are possible on Bermuda by Wednesday night."
---
Comments
This is the terrible, tragic side of nature - the odds are always very heavily against direct hits on any individual island, but yet it happens, and when it happens to certain specific places that are short on resources and infrastructure the tragedy can be compounded.

---
Comments
---
Comments
Well Hurricane Nicole is going to go down as the Rodney Dangerfield of hurricanes. Pretty hard to pay attention to Nicole when Matthew is out there tearing up the Caribbean and possible about to inflict major damage on Florida and beyond.
But Nicole is a hurricane, and is expected to waver on and off between hurricane and tropical storm for some time as she meanders about south/southwest of Bermuda.
HURRICANE NICOLE DISCUSSION NUMBER 11 NWS NATIONAL HURRICANE CENTER MIAMI FL AL152016 500 PM AST THU OCT 06 2016

Nicole's cloud pattern has continued to increase in organization
this afternoon. A small central dense overcast has become even more
symmetric during the last few hours, with an eye intermittently
visible. Dvorak classifications of T4.5 from TAFB and UW-CIMSS ADT
values support increasing the intensity to 75 kt.

Nicole is being affected by northerly shear associated with outflow
of Hurricane Matthew, but it is suspected that this shear is
confined to a narrow layer at upper levels since the cyclone has
been unexpectedly strengthening. Given the current trends,
additional intensification seems possible, at least during the short
term. However, a mid- to upper-level trough digging over the central
Atlantic should cause the shear over Nicole to greatly increase in 1
to 2 days and result in some weakening. There could also be some
interaction of Nicole with a piece of the trough that breaks off in
2 to 3 days, as shown in the global models, but it is unclear how
this could affect its intensity. The large-scale environment
is forecast to potentially become more conducive for re-
intensification by days 4 or 5, and some restrengthening is shown
around that time. The new intensity forecast is above the
multi-model consensus and higher than the previous one at the end
of the forecast period.

The initial motion estimate is 330/06. Steering currents are likely
to collapse very soon as Nicole finds itself in a col area, making
an erratic northward motion likely for the next 12 hours or so. A
blocking ridge in the wake of the aforementioned trough should then
impart a slow southerly motion for a couple of days. By 72 hours, a
turn back toward the northwest or north-northwest is forecast as a
mid-level high builds to the east of Nicole. Although there is
considerable spread in the model guidance, this general scenario is
shown except for the ECMWF, which is well to the right of the other
model solutions through the next 3 days. The new track forecast is
of low confidence, is faster than the previous one, and is between
the previous forecast and an average of the ECMWF/GFS output.

Swells associated with this slow-moving storm are affecting Bermuda,
and these conditions are likely to continue for the next several
days.

FORECAST POSITIONS AND MAX WINDS

INIT 06/2100Z 27.5N 65.1W 75 KT 85 MPH
12H 07/0600Z 27.9N 65.3W 85 KT 100 MPH
24H 07/1800Z 27.6N 65.2W 80 KT 90 MPH
36H 08/0600Z 27.0N 64.9W 75 KT 85 MPH
48H 08/1800Z 26.5N 64.6W 70 KT 80 MPH
72H 09/1800Z 26.4N 65.3W 60 KT 70 MPH
96H 10/1800Z 27.4N 66.7W 60 KT 70 MPH
120H 11/1800Z 29.4N 67.7W 65 KT 75 MPH
---
Comments
Been difficult to find any recent photos or videos from Haiti and The Bahamas - most webcams seem out, and spammers are flooding social media with mis-tagged images...
This is one crazy hurricane and now the forecast has it doing a 360 and perhaps hitting the southern Florida coast a second time - bizarre. Here is the latest from the NHC:
BULLETIN HURRICANE MATTHEW ADVISORY NUMBER 35 NWS NATIONAL HURRICANE CENTER MIAMI FL AL142016 500 PM EDT THU OCT 06 2016

...EYE OF EXTREMELY DANGEROUS HURRICANE MATTHEW ABOUT TO HIT
FREEPORT IN THE BAHAMAS...
...POTENTIALLY DISASTROUS IMPACTS FOR FLORIDA...


SUMMARY OF 500 PM EDT...2100 UTC...INFORMATION
----------------------------------------------
LOCATION...26.2N 78.6W
ABOUT 25 MI...40 KM SSE OF FREEPORT GRAND BAHAMA ISLAND
ABOUT 100 MI...160 KM ESE OF WEST PALM BEACH FLORIDA
MAXIMUM SUSTAINED WINDS...140 MPH...220 KM/H
PRESENT MOVEMENT...NW OR 325 DEGREES AT 13 MPH...20 KM/H
MINIMUM CENTRAL PRESSURE...938 MB...27.70 INCHES


WATCHES AND WARNINGS
--------------------
CHANGES WITH THIS ADVISORY:

The Hurricane Warning has been extended northward to South Santee
River, South Carolina.

A Tropical Storm Warning has been issued from north of South Santee
River to Surf City, North Carolina.

The Government of the Bahamas has discontinued the Hurricane Warning
for the Central Bahamas.

SUMMARY OF WATCHES AND WARNINGS IN EFFECT:

A Hurricane Warning is in effect for...
* Northwestern Bahamas, including the Abacos, Andros Island, Berry
Islands, Bimini, Eleuthera, Grand Bahama Island, and New Providence
* North of Golden Beach to South Santee River
* Lake Okeechobee

A Tropical Storm Warning is in effect for...
* Chokoloskee to Golden Beach
* Florida Keys from Seven Mile Bridge eastward
* Florida Bay
* Anclote River to Suwannee River
* North of South Santee River to Surf City

A Tropical Storm Watch is in effect for...
* North of Chokoloskee to Anclote River

Interests elsewhere in the Florida Peninsula, the Florida Keys, and
in the Carolinas should monitor the progress of Matthew.

A Hurricane Warning means that hurricane conditions are expected
somewhere within the warning area. A warning is typically issued
36 hours before the anticipated first occurrence of tropical-storm-
force winds, conditions that make outside preparations difficult or
dangerous. Preparations to protect life and property should be
rushed to completion.

A Tropical Storm Warning means that tropical storm conditions are
expected somewhere within the warning area within 36 hours.

For storm information specific to your area in the United States,
including possible inland watches and warnings, please monitor
products issued by your local National Weather Service forecast
office. For storm information specific to your area outside the
United States, please monitor products issued by your national
meteorological service.


DISCUSSION AND 48-HOUR OUTLOOK
------------------------------
At 500 PM EDT (2100 UTC), the eye of Hurricane Matthew was located
near latitude 26.2 North, longitude 78.6 West. The hurricane
is moving toward the northwest near 14 mph (22 km/h), and this
general motion is expected to continue tonight with a turn toward
the north-northwest early Friday. On the forecast track, the
eye of Matthew should move near or over Freeport in the Bahamas
in the next hour or so, and move close to or over the east coast
of the Florida peninsula through Friday night.

Maximum sustained winds are near 140 mph (220 km/h) with higher
gusts. Matthew is a category 4 hurricane on the Saffir-Simpson
Hurricane Wind Scale. Some fluctuations in intensity are likely
while the hurricane moves toward the coast of Florida.

Hurricane-force winds extend outward up to 60 miles (95 km) from the
center and tropical-storm-force winds extend outward up to 185 miles
(295 km). Settlement Point in the Bahamas, recently reported a
sustained wind of 54 mph (87 km/h) with a gust of 62 mph (100
km/hr).

The minimum central pressure reported by a NOAA Hurricane Hunter
plane was 938 mb (27.70 inches).


HAZARDS AFFECTING LAND
----------------------
WIND: Hurricane conditions will continue over portions of the
northwestern Bahamas this evening.

Hurricane conditions are expected to first reach the hurricane
warning area in Florida this evening and will spread northward
within the warning area through Friday. Tropical storm conditions
will continue to spread northward in the warning area along the
Florida east coast tonight and Friday.

Hurricane conditions are expected to spread northward in the warning
area in Georgia and South Carolina Friday night and Saturday with
tropical storm conditions expected on Friday.

Winds increase rapidly in elevation in a tropical cyclone.
Residents in high-rise buildings should be aware that the winds at
the top of a 30-story building will be, on average, about one
Saffir-Simpson category higher than the winds near the surface.

Tropical storm conditions are expected in the tropical storm warning
area in the Carolinas on Friday night and Saturday.

STORM SURGE: The combination of a dangerous storm surge and large
and destructive waves could raise water levels by as much as the
following amounts above normal tide levels...

Northwestern Bahamas...10 to 15 feet

The water could reach the following heights above ground if the peak
surge occurs at the time of high tide...

Sebastian Inlet, Florida, to Edisto Beach, South Carolina, including
portions of the St. Johns River...7 to 11 ft
Edisto Beach to South Santee River, South Carolina...4 to 6 ft
Deerfield Beach to Sebastian Inlet, Florida...4 to 6 ft
South Santee River, South Carolina, to Cape Fear, North Carolina...2
to 4 ft
Virginia Key to Deerfield Beach, Florida...1 to 3 ft

Surge-related flooding depends on the relative timing of the surge
and the tidal cycle, and can vary greatly over short distances.
Large waves generated by Matthew will cause water rises to occur
well in advance of and well away from the track of the center.

The combination of a dangerous storm surge and the tide will cause
normally dry areas near the coast to be flooded by rising waters
moving inland from the shoreline. There is a danger of life-
threatening inundation during the next 36 hours along the Florida
east coast, the Georgia coast, and the South Carolina coast from
Deerfield Beach, Florida, to South Santee River, South Carolina.
There is the possibility of life-threatening inundation during the
next 48 hours from north of South Santee River, South Carolina, to
Cape Fear, North Carolina. For a depiction of areas at risk, please
see the Prototype National Weather Service Storm Surge Watch/Warning
Graphic. For information specific to your area, please see products
issued by your local National Weather Service forecast office.

The Prototype Storm Surge Watch/Warning Graphic is a depiction of
areas that would qualify for inclusion under a storm surge watch or
warning currently under development by the National Weather Service
and planned for operational use in 2017. The Prototype Graphic is
available at hurricanes.gov.

RAINFALL: Matthew is expected to produce total rainfall amounts in
the following areas:

The central and northern Bahamas...8 to 12 inches, isolated 15
inches
Coastal eastern Florida, Georgia, South Carolina, and southeast
North Carolina....5 to 10 inches, isolated 12 inches

Rainfall should diminish across central and eastern Cuba with
isolated additional amounts of 1 to 2 inches possible through this
evening.

TORNADOES: An isolated tornado or two is possible along the
east-central Florida coast tonight.

SURF: Swells generated by Matthew will continue to affect portions
of the north coast of Cuba and the Bahamas during the next few days,
and will spread northward along the east coast of Florida and the
southeast U.S. coast through the weekend. These swells will likely
cause life-threatening surf and rip current conditions. Please
consult products from your local weather office.
---
Comments
Baracoa, Cuba:
---