Comments
The only good news about this storm is that it is not a hurricane - it is looking like it will track directly over the Virgin Islands, which will likely see a lot of rain and winds of about 40 to 50 MPH:

TROPICAL STORM MARIA DISCUSSION NUMBER 11
NWS NATIONAL HURRICANE CENTER MIAMI FL AL142011
500 AM AST FRI SEP 09 2011
THERE HAS BEEN AN INCREASE IN THE CONVECTION DURING THE PAST SEVERAL
HOURS BUT SATELLITE INTENSITY ESTIMATES HAVE NOT CHANGED. SURFACE
PRESSURES ARE FALLING...AS INDICATED BY BUOY 41101 WHICH RECENTLY
REPORTED A MINIMUM PRESSURE OF 1003.7 MB. THE INITIAL INTENSITY IS
KEPT AT 35 KNOTS AT THIS TIME...AND A RECONNAISSANCE PLANE WILL
CHECK MARIA AROUND 1200 UTC. THE UPPER-LEVEL WIND ENVIRONMENT IS
NOT AS HOSTILE AS IT WAS 12 TO 24 HOURS AGO...AND THE INTENSITY
GUIDANCE SHOWS SOME SLIGHT STRENGTHENING AS THE CYCLONE MOVES
ACROSS THE EXTREME NORTHEASTERN CARIBBEAN SEA...AND IT IS SOMEWHAT
MORE AGGRESSIVE BY THE END OF THE FORECAST PERIOD. THE NHC FORECAST
FOLLOWS SUCH GUIDANCE.
MARIA IS MOVING TOWARD THE WEST-NORTHWEST OR 290 DEGREES AT 17
KNOTS. THE LATEST TRACK GUIDANCE HAS SHIFTED TO THE RIGHT AS GLOBAL
MODELS NOW FORECAST A WEAKER SUBTROPICAL RIDGE TO THE NORTH OF THE
CYCLONE. ON THAT BASIS...THE OFFICIAL FORECAST HAS ALSO BEEN
SHIFTED TO THE NORTH BUT IT IS ON THE SOUTHERN EDGE OF THE NEW
GUIDANCE ENVELOPE IN CASE MODELS SHIFT BACK TO THE SOUTH IN THE
NEXT CYCLE. GIVEN THE TRACK AND INTENSITY FORECAST...A TROPICAL
STORM WARNING HAS BEEN ISSUED FOR A LARGE PORTION OF THE
NORTHEASTERN CARIBBEAN ISLANDS.

FORECAST POSITIONS AND MAX WINDS
INIT 09/0900Z 13.8N 56.2W 35 KT 40 MPH
12H 09/1800Z 14.5N 58.5W 35 KT 40 MPH
24H 10/0600Z 16.0N 61.3W 35 KT 40 MPH
36H 10/1800Z 17.5N 63.5W 40 KT 45 MPH
48H 11/0600Z 19.0N 65.5W 45 KT 50 MPH
72H 12/0600Z 22.0N 69.5W 55 KT 65 MPH
96H 13/0600Z 24.0N 71.5W 65 KT 75 MPH
120H 14/0600Z 27.0N 73.5W 70 KT 80 MPH

---
Comments
Tropical Storm Maria is the latest in a fast and furious September so far for named storms. Katia is now an Atlantic hurricane and not a threat to the region, and Nate is a Gulf of Mexico/Central America storm - but Maria, although not forecast to become a hurricane in the Caribbean, looks to be tracking right over the Leeward Islands. It is packing 50 mph winds and plenty of rain, so while it shouldn't be a disastrous storm as currently forecast, it can certainly ruin your vacation and trigger local flooding and heavy surf in the next several days.
TROPICAL STORM MARIA DISCUSSION NUMBER 7
NWS NATIONAL HURRICANE CENTER MIAMI FL AL142011
500 AM AST THU SEP 08 2011
MARIA CURRENTLY HAS A RATHER DISORGANIZED APPEARANCE ON SATELLITE
IMAGES...AND CONSISTS PRIMARILY OF A RATHER SHAPELESS CLUSTER OF
DEEP CONVECTION WITH A FEW THUNDERSTORMS TO THE WEST-SOUTHWEST OF
THE CLUSTER. THERE IS LITTLE...IF ANY...EVIDENCE OF BANDING
FEATURES. AN ASCAT PASS FROM SEVERAL HOURS AGO INDICATED THAT THE
MAXIMUM WINDS REMAIN NEAR 45 KT. HOWEVER...DATA FROM THIS PASS ALSO
CAST SOME DOUBT AS TO WHETHER THE SYSTEM HAS A CLOSED CIRCULATION
AT THIS TIME. VISIBLE IMAGERY AND AN AIRCRAFT MISSION LATER TODAY
SHOULD GIVE MORE INFORMATION ON THE STATUS OF MARIA.
NO CHANGE IS MADE TO THE INTENSITY FORECAST. AN UPPER-LEVEL LOW OR
TROUGH TO THE NORTHWEST OF THE STORM HAS BEEN IMPARTING ABOUT 20 KT
OF SOUTH-SOUTHWESTERLY SHEAR OVER THE TROPICAL CYCLONE...AND
INHIBITING STRENGTHENING. GLOBAL MODELS INDICATE THAT THIS
LOW/TROUGH WILL MOVE MORE OR LESS IN TANDEM WITH MARIA THROUGH
ABOUT 72 HOURS...AND CONTINUE TO PRODUCE SIGNIFICANT SHEAR ON THE
SYSTEM. THE OFFICIAL FORECAST SHOWS NO STRENGTHENING THROUGH 72
HOURS FOLLOWED BY SOME INCREASE IN INTENSITY AS THE IMPACT OF THE
AFOREMENTIONED UPPER-LEVEL LOW IS EXPECTED TO LESSEN. THE NHC WIND
SPEED FORECAST IS ROUGHLY BETWEEN THE LATEST LGEM GUIDANCE AND THE
INTENSITY MODEL CONSENSUS.
THE CENTER IS QUITE DIFFICULT TO FIND...BUT IT IS PRESUMED THAT
MARIA HAS BEEN MAINTAINING A MOTION OF 275/20. A CONTINUED WESTWARD
MOTION IS LIKELY FOR ANOTHER DAY OR SO AS THE STORM MOVES ON THE
SOUTHERN SIDE OF A SUBTROPICAL RIDGE. SOME DECELERATION IS
PREDICTED AS THE RIDGE WEAKENS A LITTLE WITH TIME. IN 48 TO 72
HOURS...MARIA SHOULD BE NEARING A WEAKNESS IN THE RIDGE AND TURN
WEST-NORTHWESTWARD. AS USUAL...THERE IS A FAIR AMOUNT OF
UNCERTAINTY IN THE TRACK 4 TO 5 DAYS FROM NOW. A BROAD 500 MB
TROUGH...MOVING OFF THE U.S EAST COAST...IS SHOWN BY THE GLOBAL
MODELS TO WEAKEN THE RIDGE ENOUGH TO CAUSE MARIA TO TURN
NORTHWESTWARD BY 96 HOURS. IF THE TROUGH TURNS OUT TO BE WEAKER
THAN CURRENTLY PREDICTED...IT COULD DELAY THE NORTHWESTWARD TURN.
THE OFFICIAL FORECAST IS VERY CLOSE TO THE PREVIOUS ONE AND ROUGHLY
IN THE MIDDLE OF THE TRACK GUIDANCE ENVELOPE...BRACKETED BY THE
U.K. MET OFFICE MODEL ON THE LEFT AND BY THE GFS AND HWRF MODELS ON
THE RIGHT.
FORECAST POSITIONS AND MAX WINDS
INIT 08/0900Z 13.5N 48.2W 45 KT 50 MPH
12H 08/1800Z 13.8N 51.2W 45 KT 50 MPH
24H 09/0600Z 14.5N 54.7W 45 KT 50 MPH
36H 09/1800Z 15.3N 57.8W 45 KT 50 MPH
48H 10/0600Z 16.7N 60.8W 45 KT 50 MPH
72H 11/0600Z 19.5N 65.5W 45 KT 50 MPH
96H 12/0600Z 23.0N 69.0W 50 KT 60 MPH
120H 13/0600Z 26.0N 72.0W 60 KT 70 MPH
---
Comments
Use this post to ask questions or leave comments about Tropical Storm Maria.
---
Comments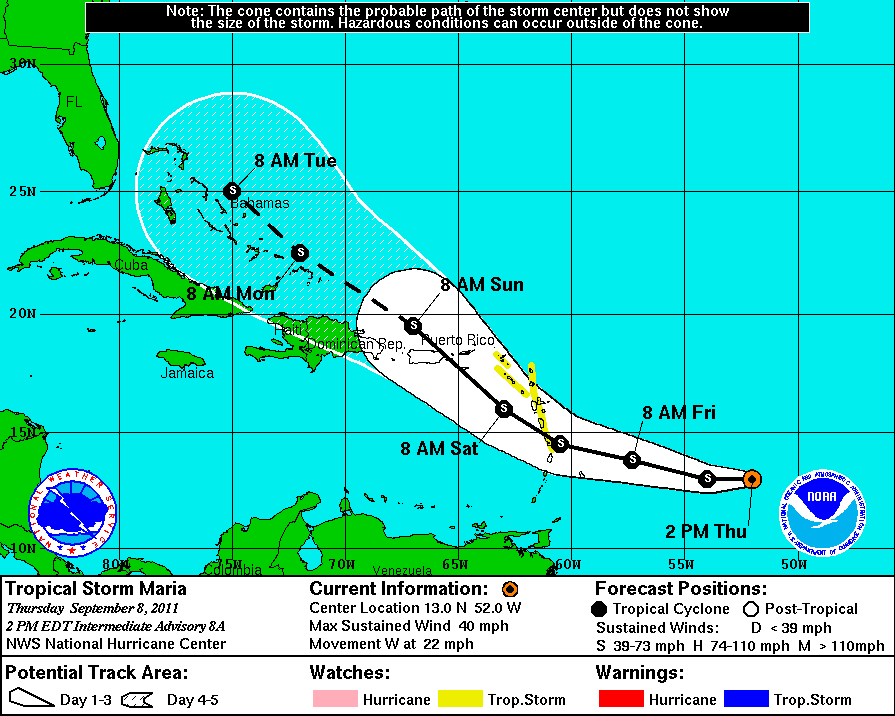 ---