Comments
For the North Atlantic... Caribbean Sea and the Gulf of Mexico:
One named storm, Otto, which became a hurricane, formed in the
Atlantic basin in November. Based on a 30-year (1981-2010)
climatology, a named storm forms in the basin in November in about 7
out of 10 years, with a hurricane forming about once every other
year.
For the 2016 season, 15 named storms formed, of which 7 became
hurricanes, and 3 became major hurricanes. One unnamed depression
also formed in the basin. The number of named storms and hurricanes
in 2016 was above the long-term averages of 12 and 6, respectively.
The season total of major hurricanes matched the long-term average
of 3.
In terms of Accumulated Cyclone Energy (ACE), which measures the
combined strength and duration of tropical storms and hurricanes,
activity in the basin for 2016 was above normal. Overall, the ACE
for the season was about 40 percent above the 1981-2010 median
value. It is noteworthy that just three cyclones, Matthew, Gaston,
and Nicole, produced more than 70 percent of the seasonal ACE, while
many of this year's other cyclones were relatively weak and/or short
lived.
Reports on individual cyclones, when completed, are available at
the National Hurricane Center website at
www.nhc.noaa.gov/data/tcr/index.php?season=2016&basin=atl .
Summary Table
Name Dates Max Wind (mph)
---------------------------------------------------
H Alex 12-15 Jan 85*
TS Bonnie 27 May- 4 Jun 45*
TS Colin 5- 7 Jun 50
TS Danielle 19-21 Jun 45*
H Earl 2-6 Aug 80
TS Fiona 16-23 Aug 50*
MH Gaston 22 Aug- 3 Sep 120
TD Eight 28 Aug- 1 Sep 35
H Hermine 28 Aug- 3 Sep 80
TS Ian 12-16 Sep 60
TS Julia 14-18 Sep 40
TS Karl 14-25 Sep 70
TS Lisa 19-25 Sep 50
MH Matthew 28 Sep- 9 Oct 160
MH Nicole 4-18 Oct 130
H Otto 21-26 Nov 110
---------------------------------------------------
* Denotes a storm for which the post-storm analysis is complete.
---
Comments
2016 North Atlantic Preliminary Atlantic Tropical Cyclone Tracks from the NWS: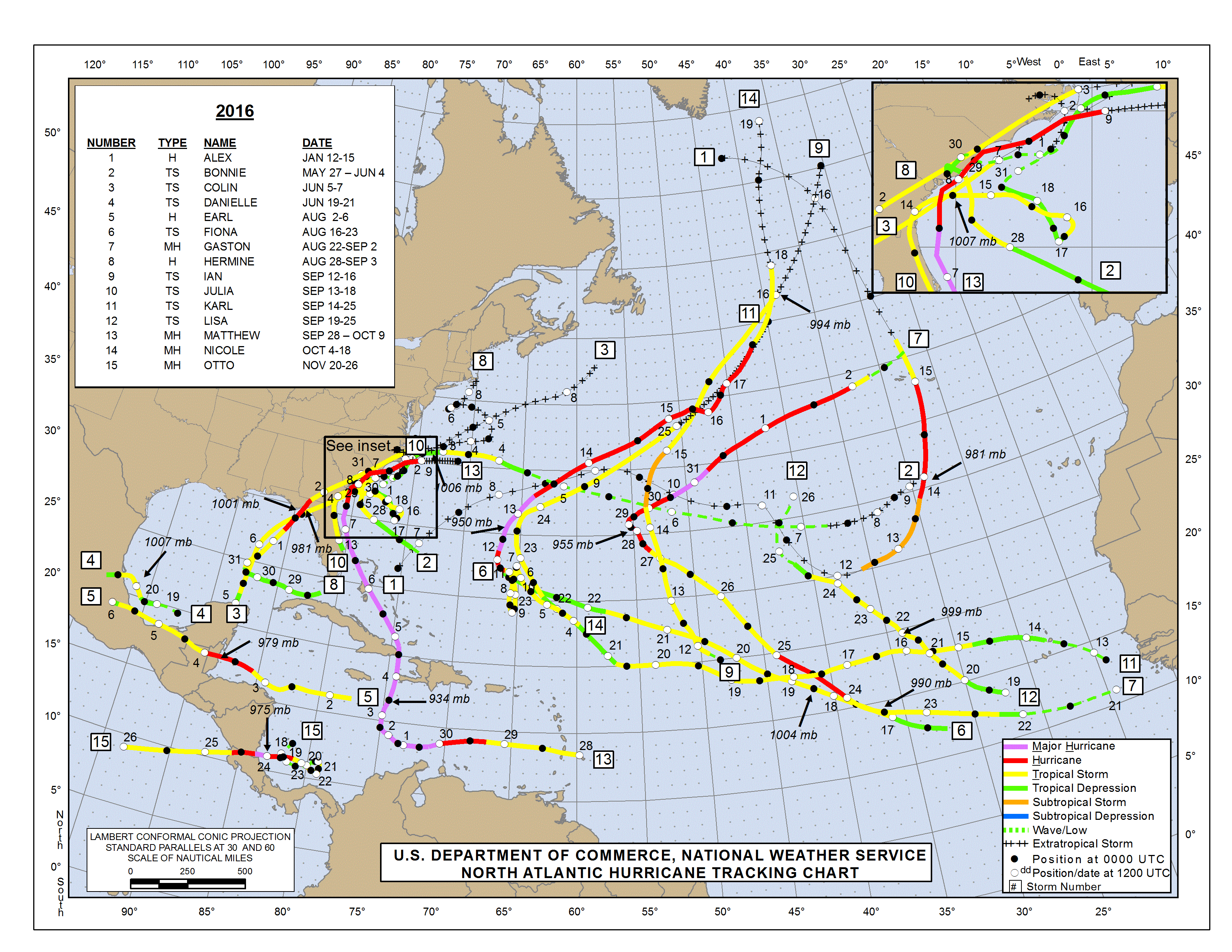 ---