Comments
Katia is a Gulf of Mexico system - so we won't be focussing closely on it as this is a Caribbean hurricane blog. That doesn't mean it isn't a serious storm - and it could be an issue for local residents. You can keep up to date on Katia via the NHC.
---
Comments
This is pretty far off, but the NHC currently has it at a 60% probability of becoming a Tropical Storm...
Tropical Weather Outlook NWS National Hurricane Center Miami FL 800 PM EDT Wed Jul 5 2017

For the North Atlantic...Caribbean Sea and the Gulf of Mexico:

1. Satellite images indicate that shower activity has become more
concentrated in association with the area of low pressure centered
about 900 miles west of the Cabo Verde Islands. Some additional
development is possible tonight and Thursday, and a tropical
depression could form before conditions become less conducive on
Friday. The low is expected to move west-northwestward at 10 to 15
mph for the next several days across the open Atlantic.
* Formation chance through 48 hours...medium...60 percent.
* Formation chance through 5 days...medium...60 percent.
---
Comments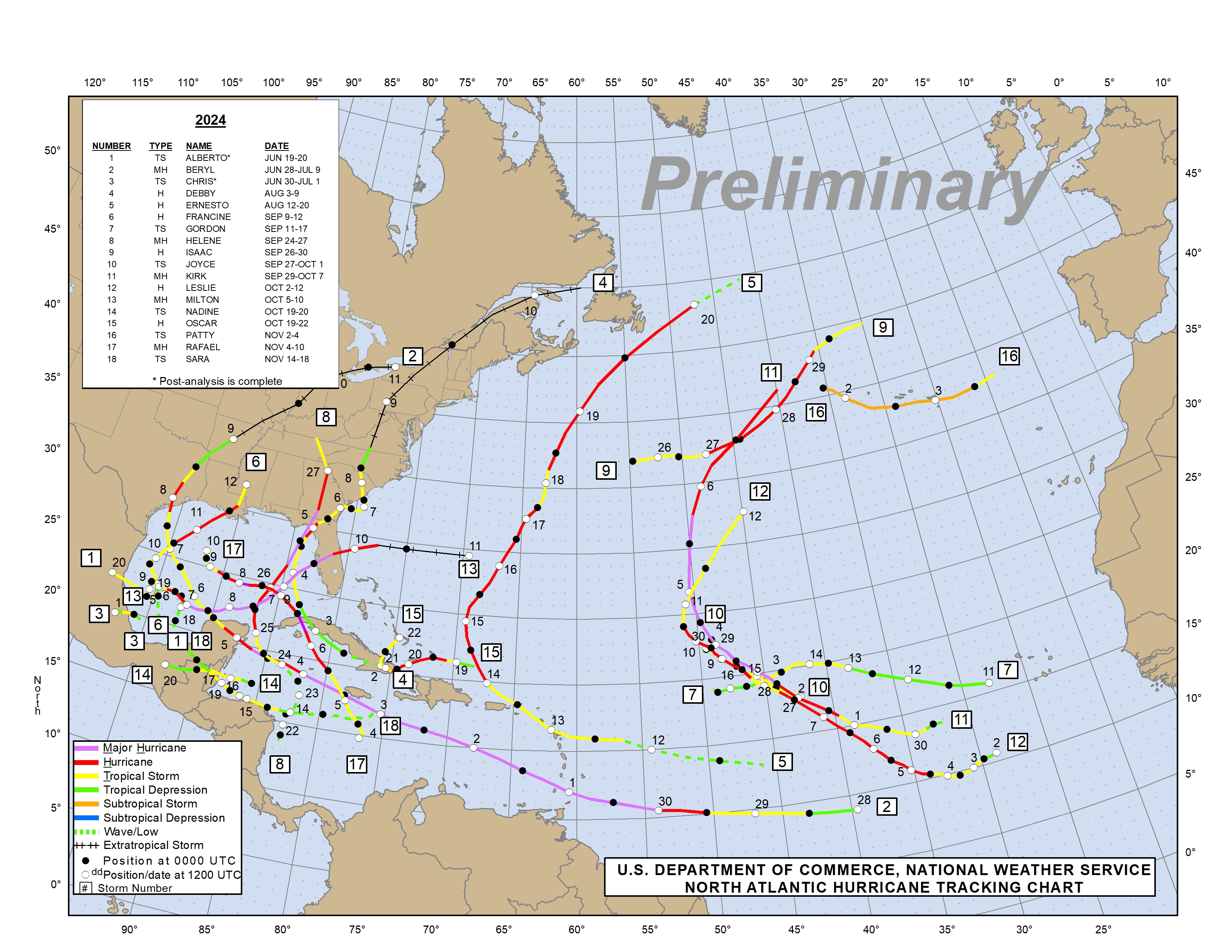 ---
Comments
Sorry for the late start everyone! We just updated our matrix with the 2017 storm names, and wrote brief summaries of the three named storms year to date: Arlene, Bret and Cindy.
Bret was a real outlier already - so early and so far south - but maybe that means the southern Caribbean will be in the clear for the rest of the year.
We'll be keeping a much closer eye on things from now until September - and as always are hoping for a safe and tranquil season!
Please use the comments form at the end of each page and/or email directly at webmaster@caribbean-on-line.com with questions, additional comments, images, updates, etc.
Remember if you are getting this email you definitely signed up for it at one point - you can always unsubscribe yourself by visiting any page on the Hurricane Blog and using the email form in the left hand column - just enter the email you received this message at, check the "Unsubscribe" radio button, then click the Add-Remove button.
Thanks -
Anthony for Caribbean-On-Line
---
Comments
Tropical Storm Cindy was the first tropical cyclone to make landfall in Louisiana since Hurricane Isaac in 2012. The third named storm of the 2017 Atlantic hurricane season, Cindy formed out of a broad area of low pressure that developed in the northwestern Caribbean Sea near the Yucatán Peninsula in mid-June 2017. The disturbance gradually organized as it drifted northwards into the Gulf of Mexico, and was first designated as a potential tropical cyclone by the National Hurricane Center on June 19, organizing into a tropical storm the next day. While slowly moving to the northwest, Cindy's intensification was hampered due to the effects of dry air and moderate to strong wind shear. It later made landfall in southwestern Louisiana on June 22, quickly weakening afterwards and became post-tropical late the next day, dissipating shortly afterwards.
---
Comments
Tropical Storm Bret did brush the extreme southern Caribbean as it brushed by the north coast countries of South America. A very rare storm so early and so south that actually affected the ABC islands and Trinidad and Tobago, which are generally considered in the "safe" zone for tropical activity. Barbados and St. Vincent and the Grenadines also issues warnings related to this storm, which also caused flooding in Guyana.
According to Phil Klotzbach of Colorado State University, Bret was the earliest storm to form in the Main Development Region on record, surpassing a record set by Tropical Storm Ana in 1979. Bret was also the lowest latitude named storm in the month of June since 1933 at 9.4°N.
---
Comments
Arlene was a small tropical storm in the middle of the Atlantic Ocean, it never posed a threat to the Caribbean region. As long time followers of this blog know we really only post things that concern the Caribbean region, as well as the Bahamas.
---