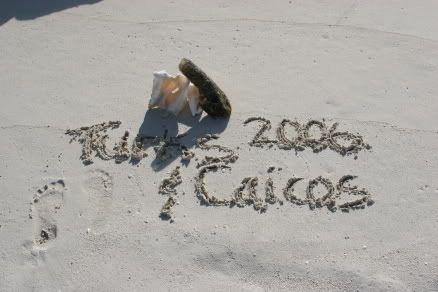 How I always start out my Caribbean trip photo albums!
First of all a thank you to any and all who answered all my questions, with patience and longsuffering. Your help, helped our trip be more enjoyable, and interesting!!!
Pull up a chair and adjust your reading glasses. I keep a trip journal on all trips, and tend to write very long, detailed ones. I find it easier to do these trip reports day by day...hope you all don't mind.
Excerpts from my journal
We flew American Airlines from Detroit to Miami and then Provo. Our large case was crushed hard enough to bust the zipper [grrrr] and we were told American doesn't cover zippers. Well, they wouldn't have to if they didn't crush the case so badly that the zipper burst. Oh well, we are on vacation...we had to let that one go.
We arrived in Provo on Monday, February 20th and stayed at the Comfort Suites. We generally rent a private condo or home when we travel, so the hotel thing was new to us. It came as part of a very good, last minute, deal we could not pass up.
We rented our car from Budget Rental, and got a nice errrr...ummm...puke pink Colt. It was in very good condition, just unfortunate in color. Rental went smooth and easy at the airport. Cars rented from Budget, however, need to be returned to their store near Danny's [just before the last roundabout when going back to airport], something to remember.
We arrive at Comfort Suites and are greeted by Coleen.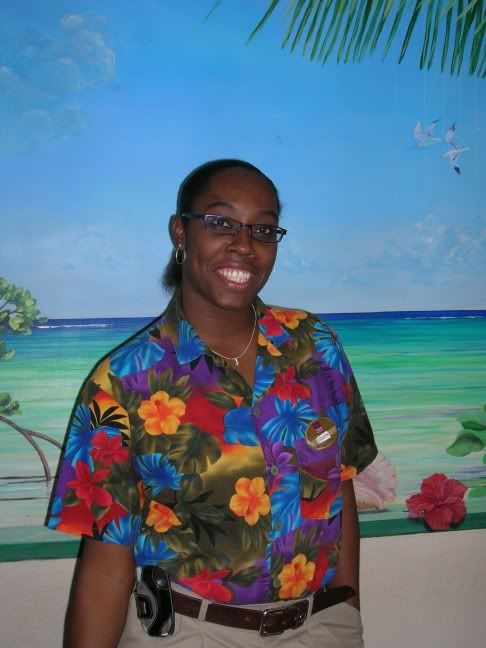 Coleen
Coleen could not find our reservation, and it was freaking us out a bit, until we produced our paperwork, and voila...there it was. She was cordial about it, however, and all was well in our world. The room was clean, and comfy. We stayed on the left hand side of the building [thank you blamona [from the fodors.com site for that advice.] We had no problem at all with noise, construction or otherwise. My husband also took the tip to leave a $3 tip each morning, and let me tell you, it was well worth it. Our room was always spotless, the bed had clean sheets on it more often than the 'every three day change' you read about in their literature, and the maid was so sweet, and talky, and even left us a thank you note for the tip!!! Pool looked nice, but had some vegetation that had fallen to the bottom and needed cleaned out. This seemed to be the case our entire 8 day trip. We never use the pool though, so this didn't matter to us.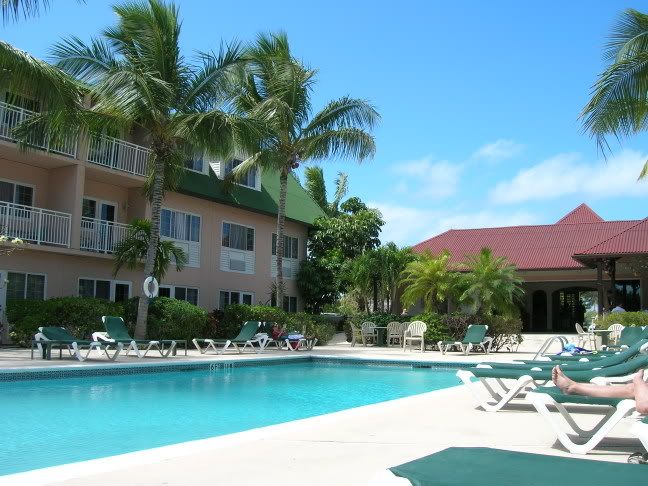 Comfort Suites Pool
We then went to the beach area for Comfort Suites. I keep reading it takes 15 minutes to walk there from the hotel, but I have to tell you, people must walk a lot slower than we did. We got there in about 5 minutes. There are a few beach chairs there for guest use, and the beach was nice and clean. Seas were rough this day so we just played in the waves, and enjoyed some letting down time.
That evening we ate at Calico Jacks in Ports of Call. Hubby had grilled grouper for $18.00, and I had the spaghetti and salad for $16.00. Fish was excellent, salad was good...I did not like the spaghetti and hardly ate any of it. We don't drink alcoholic beverages, so just water and iced tea for us.
We then drove to the IGA to pick up snacks. Everything cost a bit more, but not so much that it made me cringe. The yogurt I pay 65 cents for here, was 89 cents there, for example. We went back to the room and slept good and hard.
WEDNESDAY we did the continental breakfast at the hotel. Consisted of croissant, toast, juices, spice cake and coffee. We then drove out to find Coral Gardens. It was nice, and I truly understand the need to rope off the coral to keep it protected from folks who don't have good reef etiquette, but after hopping in the water in Grand Cayman, and just going for it over the reef, it was a bit disappointing. We saw 3 large turtles. Were told by a local that they love to hang out near the green buoy in the turtle grass near the roped off section. She was right!
Ate lunch at the Barefoot Cafe, and I will never go back there again. Service was not just slow, but indifferent. He didn't seem to care if you got your food, were waited on, or anything. More interested in chatting up the two young ladies that came in that he seemed to know. We both had the grilled grouper sandwich at $18 @. We then went to the Salt Mills Plaza to give it a look see. Fell in love with a painting at Anna's Gallery [or is it Anne's gallery?], eventually ended up buying it. It is by Judith Geddes Kinsey, who is a local artist. I am so glad I got this painting. Makes me happy just seeing it.
Went to snorkel at Smiths Reef and made the mistake on not asking enough questions. Ended up at the smaller, spread out portion, and didn't even realize there was a large section of coral to explore further out. Did learn this later, and did snorkel it several times thereafter.
Ate dinner at Danny Buoys. Jerome, the waiter, was very nice, entertaining and efficient. I had the BBQ chicken BLT sandwich with mashed potatoes [$11], husband had the beef stew, with mashed [$15]. Both very good. One thing that bugged me there was there was this guy who made conch dishes [bowls, cups, etc.] who was pressing his wares on the unsuspecting sitting at the bar, which we were not. He wasn't just selling these things, he was actually pressing these people to buy. I am very uncomfortable with that, and was glad he didn't approach those at tables. If you are there at the bar...beware!
THURSDAY
Today is our full day island trip with J&B. Nice people on the phone, and very nice to deal with in person. Captain Kevin was our captain.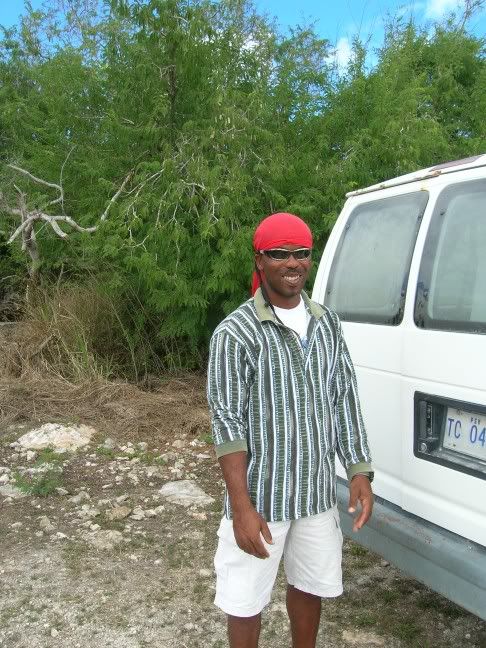 Captain Kevin
We had 7 people on the boat. This trip ended up being 8 hours long and delightful. We got to see many of the islands, some shipwrecks, Bruce Willis' house all on our way to Middle Caicos. The water on this trip...ahh, the water, just to see that blue and realize it really is that blue is amazing.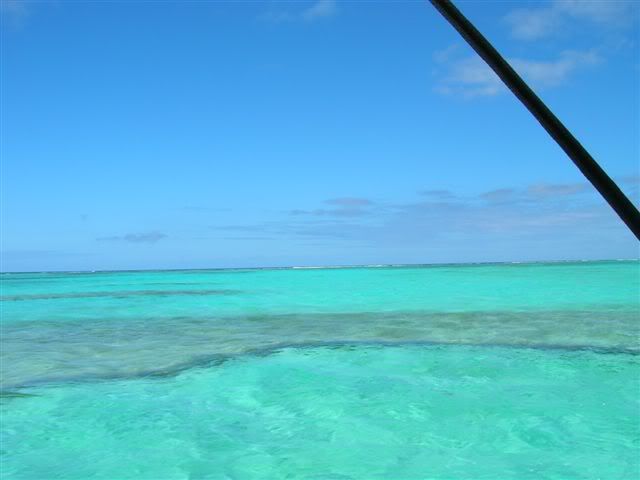 From the boat...see that blue water?!?!?!
Ernest Forbes picked us up in Middle Caicos to take us on a tour of the caves. I really liked Ernest. The cave tour was nice, but a hint to anyone going, wear sturdy shoes, no flip flops.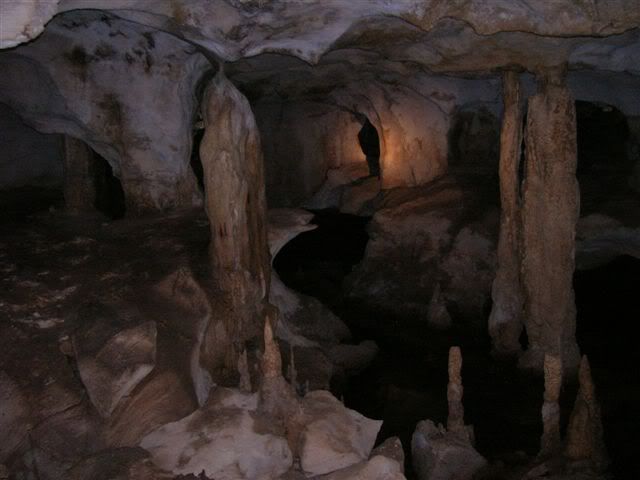 Middle Caicos Caves
We then went to a gorgeous beach. I mean truly gorgeous.
Middle Caicos Beach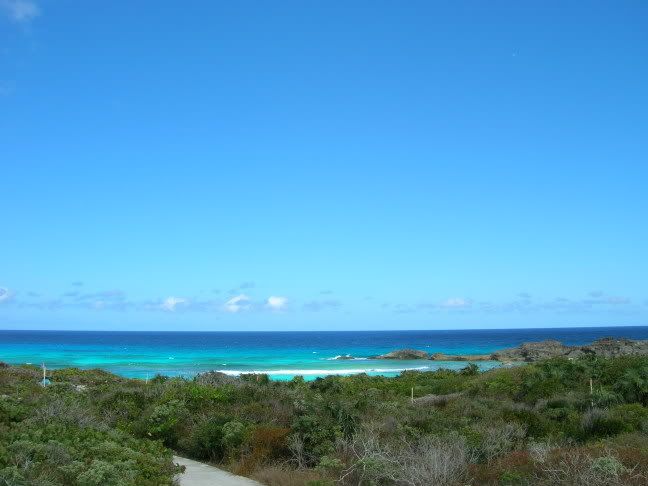 another Middle Caicos Beach photo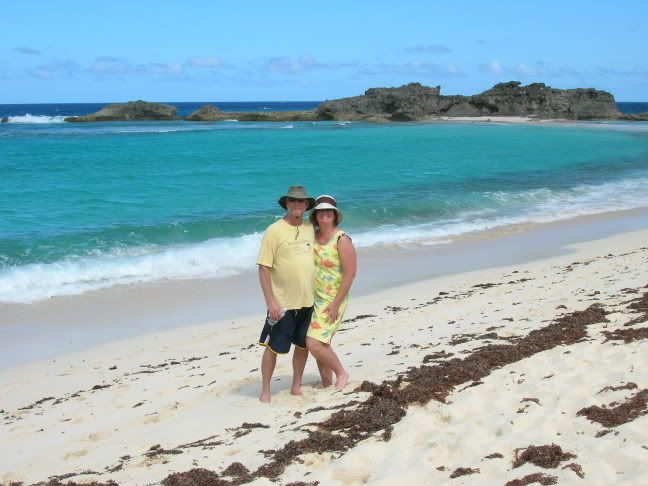 Us on the beach at Middle Caicos
Had a nice lunch there with our group, and I mentioned to Ernest that I had heard of the ladies of Middle Caicos and their baskets. That I would have loved to met one, and perhaps get a basket. He asked us to join him on a private jaunt to the home of Miss Daisy May. Off we go. Daisy May was warm, cordial and invited us right in. She showed me her lovely baskets and I bought one for myself and one for my daughter in law. I like that she got the entire amount paid for her baskets, not the lesser amount that someone selling them in Provo at a shop would have given her. She graciously posed for a picture with the baskets she made. It made my trip even more special.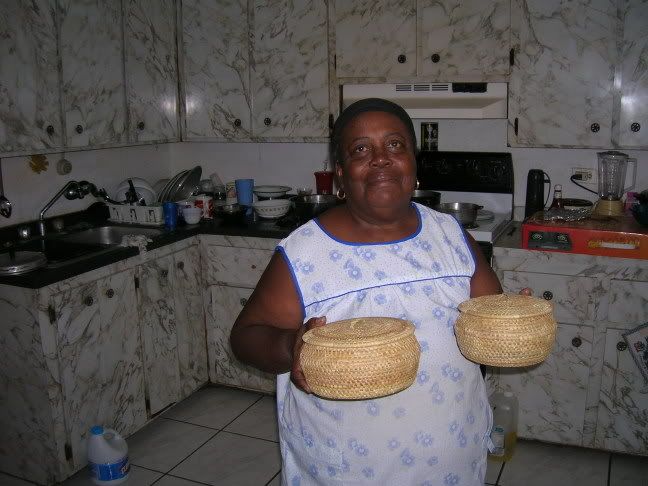 Daisy May and the baskets I bought.
We went back with Ernest, who showed us the jail, pointed out his son, answered so many questions about his island his head was probably spinning and took us back to the others on the beach. We then got back on our boat with Captain Kevin [who was cute as can be, and teased me he was 44...right],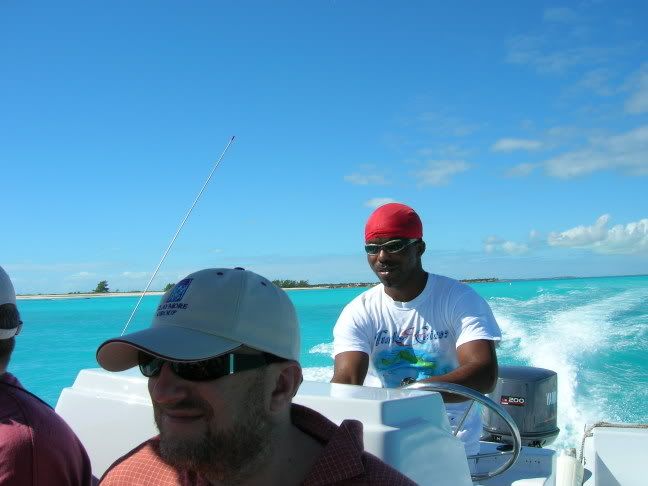 and stopped for a nice snorkel before heading in. Wonderful trip, from the phoning for the reservation, to the pick up at the hotel, the drop off back at the hotel and everything in between.
Ate at Sharkbites this evening and had their Wednesday night fish and chips special. Very good. Good service, and a good value. $8.95 @ for dinner. We had a cup of ice cream at Giggles in the Ports of Call for a snack and off to bed.
THURSDAY
Sunburn! Use a lot of sunscreen on those all day boat trips!!! Big time hint there. We ate Breakfast at the Salt Mills Cafe. Breakfast was $9 a piece, and was bacon, eggs, toast and hashbrowns. We then drove to Pelican Beach. Leeward is a lovely place.
Pelican Beach at Leeward
P
Stopped in at the TCI tourism office after that and got the best map of the island roadway to be had. I suggest this if you are getting a car. That one in the hotels is alright, but this one is newer and better. Then headed out to the Conch Farm. This ended up better than we thought it would be. Acutally pretty interesting.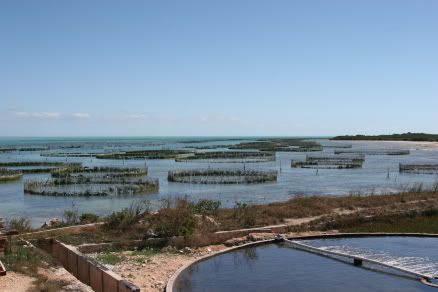 Pens at the Conch farm.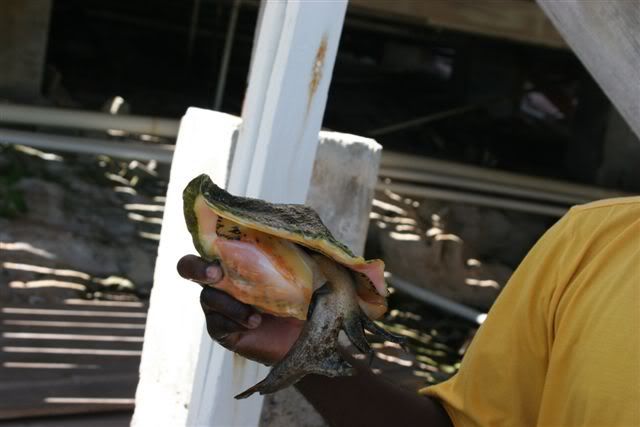 Male conch
Left there to explore and find 'The Hole.' We teased that we thought 'the hole' meant all the holes in the road to view 'the hole.' Yowzer. Some of those holes seemed to want to swallow our little Colt car. "The Hole" was just that. A big, deep hole with green water and garbage in it. I'd skip it if doing it again.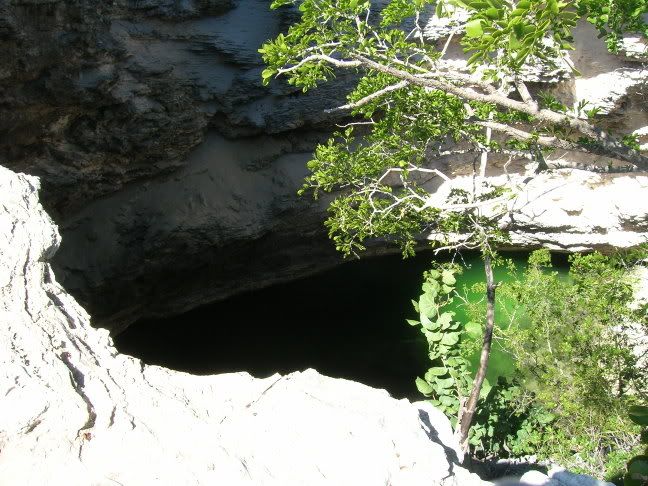 THE HOLE
Tried a trip through Blue Hills to find the Middle Caicos Art Co-op but could never find it. Came back and ordered pizza at the Ports of Call Pizza place. Didn't like it. Lots of cheese and most of it Cheddar. AT $14 not a bad deal if you didn't mind all that cheese. Did some shopping at Ports of Call. Nice place to find t-shirts, etc. The hit was the t-shirt with the map of TCI on the back. Hubby loved that one.
Sail Provo called to tell us our trip had been cancelled. Bummed.
Dinner was at Coco Bistro [thank you Sandy for the suggestion]. What a gorgeous setting. You sit in little nooks and crannies made up of greenery with tall, stately palms forming a canopy overhead. Make sure to get reservations here, this place was the busiest of any place we went. I had the salt snapper, and hubby had the puff pastry grouper. We had a bottle of water, a coke and iced tea. For dessert we both had the creme brulee, and it is the best I have ever had! Dinner came to $115.
FRIDAY
Back to Salt Mills for breakfast, bringing back the leftovers to feed to my Potcake doggy who I named Potcake Patty. She loved me! She lives outside the Comfort Suites. If you stay there, please scratch her behind her ears for me, and sneak her a piece of bacon or two from time to time.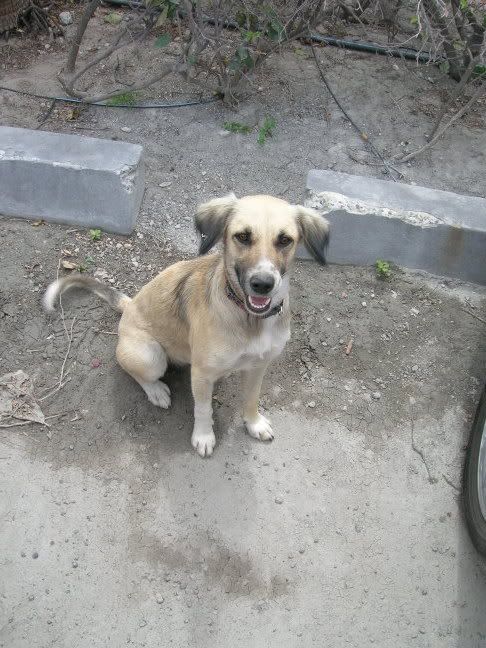 Potcake Patty
We then drove back out to Smith Reef. Word of advice here to all travelers looking for a place to have some adult 'play time'. Smith's Reef is slightly busy from time to time, and you may have people come upon you 'in the act.' Hubby and I walked up to the water, and lo and behold, a couple was in the water, errr...um....playing. She had to walk out of the water, in front of us, in his wet t-shirt and nothing else. Lots to see there that day. LOL Bad us. Anyhoo, we get to snorkeling as the couple dressed [sorry, it was funny] and we saw two huge Eagle Rays. One seemed quite interested in us and kept coming by for another gander. What an experience.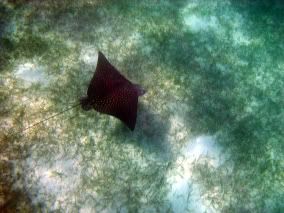 one of the Eagle Rays
We also saw the biggest nurse shark we had ever seen.
I will say here too that it bothered me that a glass bottom boat, snorkel operation, entered the buoyed off area to give those people a look-see. I think this should be illegal if it is not. Snorkelers were in the water, within the buoyed section, and this joker has a boat in there with them. He did not go to the larger portion of the reef, but the more spread out portion, but still. DANGEROUS. So be aware that someone is doing this if you go there.
To find the large reef at Smith's Reef. Follow the public access road that would take you to Shark Bites/Baci Restaurants, and when you come to the signs for public access choose the one that turns to the left. Go to the end of it, drive over the dropped chain and park on the parking/beach area there. Exit the car, walk over the dune and then away from the marina. You will see a rock marking of where to enter Smiths Reef. Walk between the rock markings, you will see a sandy entrance. BEFORE doing this, I highly suggest wearing a pair of polorized sunglasses to find the larger reef. How to do this is to walk into the sandy area with sunglasses on, look directly out from the sandy walkway, and then slightly right. You will see a very large brown area, about halfway between the buoys and the beach. THERE is the part of the reef you really want to explore. Don't be afraid of it. You will swim over sand, some turtle grass, and then it gets deep with just sand. You will come upon it. Keep heading toward it. It is huge, it is lovely, and it is teeming with life.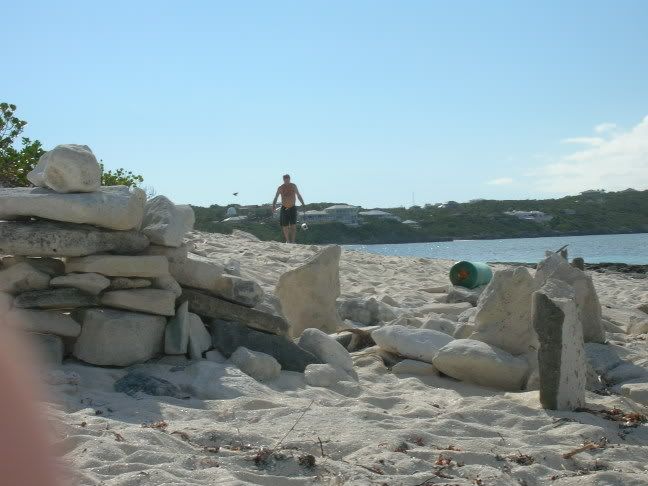 a not so good picture of the rock entry into Smith's Reef
see that dark patch out there, in the middle of the photo, toward the back of the water? that is the reef.
Didn't care for our lunch at Salt Mines [decided to try a sandwich, wish we hadn't...good smoothies though]. Then went and did some shopping. Loved Mom, at Mom's in Ports of Call. What a character!
Ate at Gecko Grill again. Hubby had the Mahi Mahi, and I had the Burger and Fries. We bought two t-shirts from there, had a coke and iced tea...and the total with tip and the shirts came to $80. Not bad.
SATURDAY
BIG WIND. No snorkeling and only swimming for the brave today. We head to Chalk Sound. OH MY GOSH!!! What a beautiful place. God sure knew what He was doing there. It was stunning. That is the bluest blue water ever anywhere...it has to be!
CHALK SOUND PICS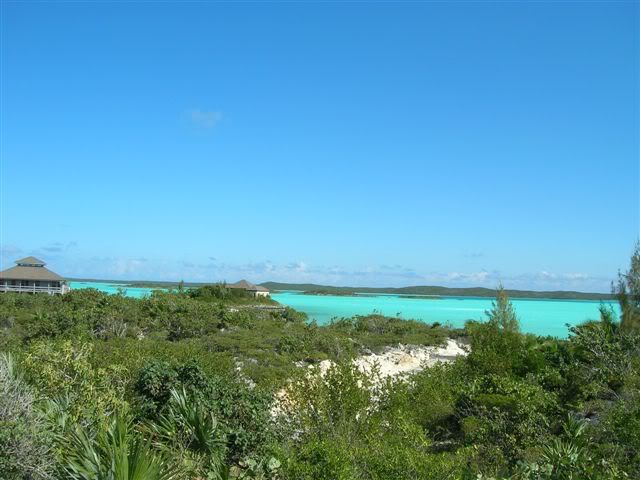 I lost the earring that goes in the top of my ear at Smith's Reef so we went to Royal Jewelry to find me something to tide me over til I got home. Not very good prices, disappointing in fact, but I needed something in there, so we bought. Went to Hemmingways on the Beach for lunch. Good prices! Good food! Good service. I had the Fish and Chips at $9 and hubby got the jerk chicken on a tossed salad for $10.00. Really enjoyed this meal. Just for kicks [and because it was so windy we couldn't swim] we went to the beach stores near the West Bay Club [I think] Didn't find anything to buy. Silversides calls to tell us our trip with them is cancelled for the next day. I'm telling you, we had no luck here! Just hung out at the Beach the rest of the day. Had a sub sandwich at the pizza place in Ports of Call. Not bad, not good...but Lunch was so good, we didn't feel the need for big dinner.
SUNDAY
Went to Jericho Baptist Church. Nice people, but L O N G service. We actually left at the 2 1/2 hour mark!!! It was also very loud. If you go there, don't let them sit you near the front. :) We head to Aqua to eat. This was one of my favorite meals. Good service, nice place...excellent food. I had the Mahi Mahi and salad for $9.00 and Hubby had the grilled chicken on a hydroponic salad for $10.00. We both really enjoyed this meal.
Headed back to Coral Gardens hoping to get pictures of the turtles as we had BATTERIES in the underwater camera this time, and did not last. Did not see one turtle, of course!!! Saw one huge, honking baracudda though, and the biggest angelfish we've ever seen!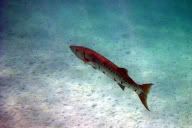 This barracuda was huge, the picture makes it seem he wasn't. Take my word for it...HUGE!
Went to Baci for dinner. This was hubbies favorite dining place. He had the Red Snapper in wine sauce with veg and scalloped potatoes. I had the Strip Steak with veg and scalloped potatoes. We both each had a Creme Caramel for dessert, and tea and water. This meal came to $88. Good value and the quality of the food was exceptional. Get reservations and ask to sit near the water.
MONDAY
Our last full day and so very windy. Kind of a bummer. Went to the Salt Mills [our favorite place it seems for breakfast, but not lunch :) ] then headed to do some last minute gift shopping. Nice suit coverup at the Caicos Adventures. We took a drive to Flamingo and Turtle Lakes and fill up the car with gas. Gas is $4.17 a gallon there right now. $35.00 to fill it up. Not bad for all the driving we did this past week. Stopped at the Internet place at Ports of Call. 35 minutes for $10...ouch. Drove through Leeward again, looked at places for sale, and dreamed, and then went to Coco Bistro again for dinner. Another nice meal, also coming in at around $100. They only add 10 percent as their gratuity, which I find interesting. We always added a bit more.
TUESDAY
Breakfast at Gilleys in Leeward. Didn't like it. Second worse service we had there. Slow and seemingly indifferent. Another couple there complained of the same thing. Breakfast was cold when it did come. I will not go back there, when we return [did you read that, when we return????] next year. Drove to Smith's Reef for one last look around, then to Coral Gardens just to lay out until time to check out of the hotel.
Headed to the airport and then home.
We love Grand Cayman and have made some wonderful friends there, but TCI is now going to be part of our travel lives as well. The beaches are very much more clean, the reef seems to be more active and thriving [especially at Smiths], and it was a bit more economical! Nice place. I'm so glad we went. Next year we are hoping for a week in Provo, then a week in Middle Caicos. Can't wait.
Sorry it was so long...I am detail oriented, and an avid overthinker!!!
just because I loved these water trucks!